There is a need to rethink the way cities are planned and managed. Men and women have different lifestyles, experiences and uses of the city. Public spaces provide avenues for women to participate equally in the cultural, social, and political transformation of their communities and country.
The United States Agency for International Development (USAID) and Cities Alliance, in collaboration with the City of Tunis, are implementing Femmedina, a gender-focused project that aims to rehabilitate and activate the public spaces in the historic centre of Tunis, the Medina, through a broader process of women's participation.
This 18-month project examines gender-sensitive approaches to urban planning that support women living in these areas, along with helping city leaders to improve participatory decision-making.
The project is called Femmedina, a combination of the terms "femmes (women)" and "medina" (historical city), because cities have a key role to play in promoting gender equality and empower women and girls. Public spaces can bring together communities and facilitate cultural expression and diversity, so it is important to look at how public spaces can promote women-city relationship building.
Making the Medina safer for women, who could then take advantage of the space as a business location, would lead to job creation.
Peter Riley, USAID Mission Director in Tunisia
A full participatory process in the historic and symbolic Medina of Tunis is the nucleus from which to engage women. It will also help identify key public spaces for small-scale physical interventions to improve women's empowerment and safety in public spaces. The involvement of the local community and women in the process of urban renewal is necessary to create spaces that reflect the stories and needs of people who live there.
The Femmedina project aims to bring out the voices of women who have been marginalized and engage them in the rehabilitation of the public spaces. It seeks to identify and implement small-scale refurbishment of public spaces to make them more inclusive towards women's needs. Throughout the process, women residents and city leaders will improve their ability to make collective decisions on how to create a better quality of life.
A woman's place is in the city.
Giulia Maci, Urban Specialist and Gender Focal Point for Cities Alliance
The project and its goals have been welcomed by the mayor of Tunis, Souad Abderrahim. At Femmedina's launch, she emphasized that leadership is important to give women greater space to adapt and learn lessons and that the sky is the limit when women's capacity is reinforced.
The Minister of Women, Family and Elderly Affairs, Imen Zahouani Houimel, highlighted the importance of the role played by local authorities and civil society in supporting the efforts of the national government in advancing gender equality in Tunisia.
Event on the 1st of October 2021: Inclusive Public Spaces in the Medina of Tunis
How can spatial justice be strengthened to build egalitarian cities for all? How can women's participation contribute to more inclusive and safe public spaces?
---
"A women's place: Voices of women from the Medina" is a two-part series of testimonies from Tunisian women and their approach to the Medina (old Town) of Tunis. These stories are included in the Femmedina Magazine, an upcoming publication in Tunisian Arabic language.
Tunis: Voices of Women from the Medina. Part 1 and Part 2
---
As part of the programme's first phase, a report has been published which presents the results of a participatory evaluation of women's social, cultural, economic, political, and institutional participation in the Medina of Tunis, particularly in the districts of Medina Centrale, Bab Souika, Bab Bhar, and Sidi el Bechir.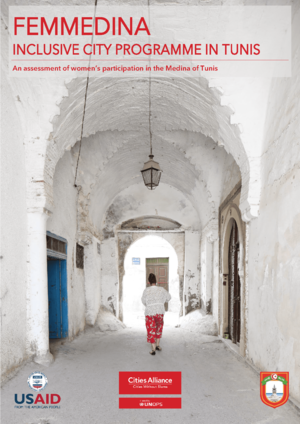 ---
Women's Participation Assessment in the Medina of Tunis
As part of the project's first phase, Cities Alliance organized in Mars 2021 an in-person participatory assessment workshop. The event gathered key local stakeholders to discuss in-depth the economic, politic-institutional, spatial, and civic-cultural aspects of women's participation.
---
Femmedina Launch Event in December 2020
---
Cities for Women
Webinar: The Feminist City
Webinar: Beyond the Revolution - Women's Political and Cultural Participation in Tunisia
Tunisia: Cities Alliance Cities for Women Programme
The Femmedina project comprises three phases that reinforce each other. It begins with gathering information and data, then implementing the information gathered, and finally sharing the knowledge from the project. The projected started in January 2021 and will continue through April 2022.
Phase 1: A participatory assessment. (January to June 2021) During the first phase, local experts and citizens living in the vicinity of the Medina are being engaged to identify the sorts of interventions necessary to improve the public space for women's participation. Vital information and data are being collected through interviews, workshops, and surveys, which will help identify potential locations suitable for interventions and transformation.
Phase 2: The creation of inclusive public space projects in the Medina. (June 2021 to February 2022) This phase will test an innovative and comprehensive approach for planning, implementing, and managing safe and inclusive public spaces in Tunis. The municipality of Tunis will lead the physical interventions that take place. Identified changes may include improvements in, for example, lighting or seating in public spaces or the rehabilitation of used public buildings. The specific uses and facilities of the space will be defined through a participatory process, and local labour and local artists will undertake the technical coordination of public space projects.
Phase 3: A city-to-city exchange to share the approach and results of the Tunis activities with other Tunisian cities. (October 2021 to April 2022) Practices developed and implemented successfully in Tunis will be showcased across the country through online or offline learning events. This will multiply the impact of the Femmedina project across Tunisia and facilitate peer-to-peer exchange and networking amongst Tunisian cities.