"A women's place: Voices of women from the Medina" is a two-part series of testimonies from Tunisian women and their approach to the Medina (old Town) of Tunis. These stories are included in the Femmedina Magazine, an upcoming publication in Tunisian Arabic language.
Part 1 – Memories from Tunis' Medina
In Tunis, Tunisia, women are an integral part of the Medina's past, its present and the future place it will be. As in many other parts of the world, women in the Medina contribute to the development of their communities and society as a whole. Although women are often forgotten and their actions may look invisible, their stories are essential to understanding the Medina and creating a better future, one that is economically richer and a safe place for all to live in.
Participatory research conducted as part of the Femmedina project found that the public spaces of the Medina often fail to be inclusive of women's needs, and yet women have always been actively contributing to the development of this part of the city.
Among the significant women who have made a lasting imprint on the Medina is Princess Aziza Othmana (1606-1669), who is known for her many good deeds and her extensive generosity. When she passed away, her will was to put everything she owned as a waqf (an Islamic trust fund) and her waqf was used to build a hospital in Medina's Azzafin quarters, provide for the poor and needy, and liberate slaves. Through this, more than 90000 hectares of land were planted for the benefit of various charitable actions; these funds were used to free slaves and prisoners and support young poor women. Today streets carry her name in Sfax, in Hamam Lif and Menzah. Her grave is located in the Medina, at Zankat el Chammaya, behind Sidi Ben Arous.
Looking from a historical perspective, scholar Dalenda Larghash points out the constraints faced by women in the past in the Medina. "Women used to live according to social criteria, but some rejected those criteria, and there was a prison, Dar Joued, where women that 'said no' when faced with stereotypes were punished for that through isolation," she said. "Despite divorce being accepted (religiously), it was not easy to acquire it without suffering. The men would take their women to court, and the judge would order their isolation at Dar Joued."
Although there were some prisons (Dars) for wealthy women, such as Dar Shalbi, the archives show that living conditions in Dar Joued were particularly harsh: "The Dar is closed to the public, and the lady of the Dar makes the isolated women suffer by not giving them enough food and makes them work around the house, so that women realize how lucky they were with their husbands."
Memories of women intertwine across history. The activist Saadia Msbah recalls that she was born at Ben Dhaf Alley in Bab Souika, and her grandmother used to work with the judge as 'Jaida', responsible for the very same female prison Dar Joued. Unlike her peers, Saadia's grandmother was known to be just and did not just execute the judge's order, but instead, she used to consult with the women and inquire about their situations, informing the judge of any injustice.  
The Medina for me, is not just our Dar, but also Zitouna Mosque, where my father was one of the engineers that watched over its restoration, and I used to go with him. It was a beautiful period of my life and when I wander around, I remember all those memories. 
Then there was Bchira Ben M'rad (1913–1993), a women's rights activist who struggled for women's education against colonialism. In 1938, Bchira published an article entitled, "Women and Education" in her own newspaper, Tunis el Fatet (the young Tunis), in which she declared her satisfaction to see that Tunisian women were becoming modern and educated. "Women must rely on themselves to improve their status," she wrote. She founded the Muslim Union of Tunisian Women (UMFT), the first in Tunisia and the second in Africa and in the Arab world.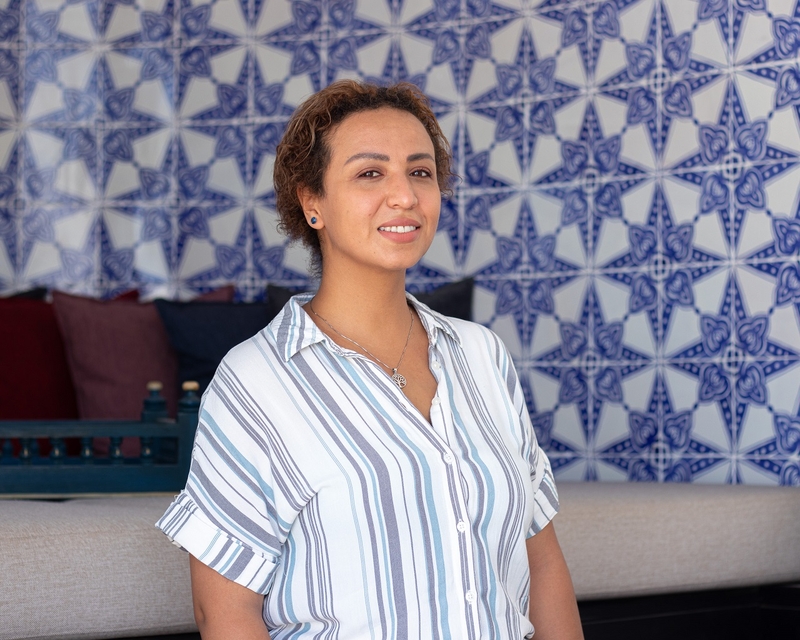 Zeineb Takouti, a data collector for the Femmedina Project, feels that cultural awareness is only one of the faces of an overall awakening of women towards their rights, something that she perceives as still lacking. She found that people from the Medina are not aware of its history and women's contribution to society.
Citizens of the Medina see it in their own way, and not necessarily with any history in mind. 

 
One of the interventions proposed by the Femmedina project is the creation of a cultural trail that connects well-known monuments and new public spaces with stories of charismatic women who have shaped the Medina.
The walk would retrace the lives of the significant women of Tunis through the places where they lived, studied, worked, taught, organized, rebelled, and made names for themselves.   The trail could help tourists and citizens alike discover some hidden gems and stories across the Medina—like the tomb of Princess Aziza Othmana. It is a sort of a map to a renamed city, a city for women.