In recent years, as the population of Monrovia has grown, so have the piles of solid waste around the city's metro area. Because Monrovia and  Paynesville have limited financial, logistical and human resource capacity, the job of clearing this waste falls to thousands of informal workers who rake, shovel, and haul away this garbage each day to help keep the city clean.
Cities Alliance is working with Monrovia and Paynesville City corporations and community-based organizations in Liberia to create circular economy solutions by improving solid waste management services and raise awareness about the four R's – recycling, reusing, reducing and recovering.
This is particularly important because so many people are living in informal settlements where there has been a shortage of effective urban planning. It's also important because as urbanization and waste production increase, cities like Monrovia and Paynesville are increasingly faced with the challenge of how to manage their waste effectively.
In the last few years, solid waste management and disposal have become an overwhelming task for municipal authorities. 
Authorities in Monrovia and Paynesville largely use the landfill as a disposal site for generated waste and at present Liberia has limited capacity to adequately utilize other options such as recycling, composting or energy recovery from the solid waste generated. 
With financial support from the European Union, the Solid Waste Management (SWM) project from Cities Alliance in Liberia, is enhancing access to sanitation by introducing more local, more sustainable practices that rely on community support.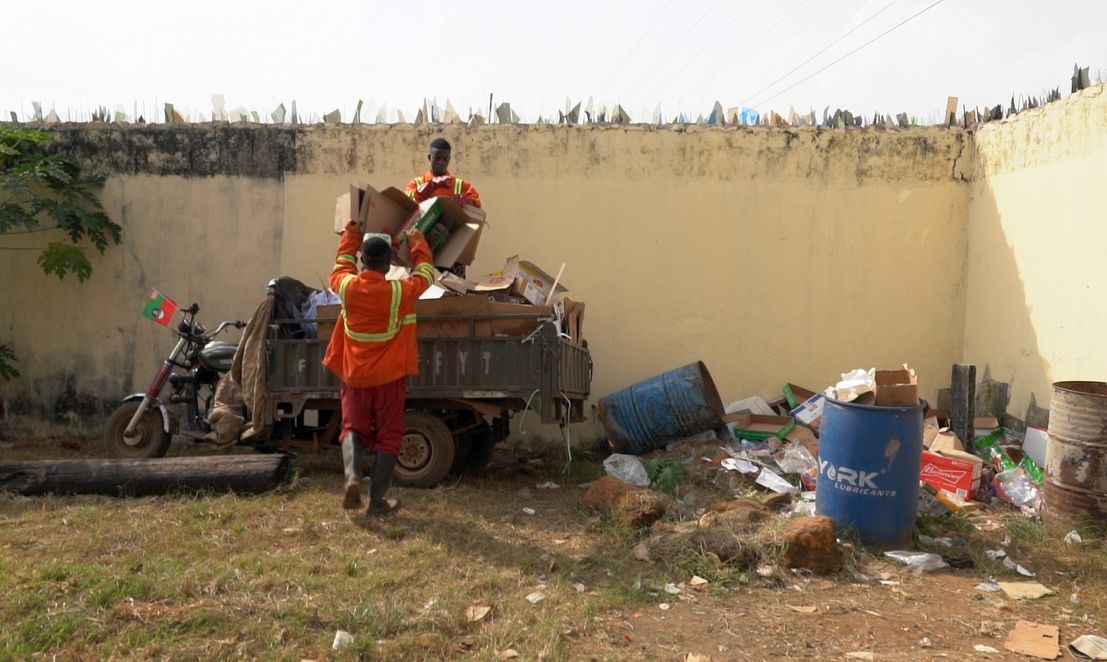 The project has provided tools and equipment to Community Based Enterprises (CBEs), to build their capacity in SWM through training in financial management, human resources, quality service delivery and record management. It also incorporates insights relating to climate change and topics like recycling and its impact on solid waste management.
Green Cities Incorporated is one of the CBEs working in Greater Monrovia. This social enterprise provides jobs for youth through plastic recycling. 
This job is important because it helps society to create a clean and green environment. I love this job. I am really making an impact for me and my community.
Marie Kpoto, finance manager of Green Cities Incorporated
"Managing waste and recycling in cities and informal settlements creates complex challenges for governments to resolve when working alone", said Francisco Juarez, Liberia Country Programme Manager at Cities Alliance. "Through the kind of collaborations supported by the project,  communities and citizens are able to articulate their needs and make partnerships to address these self-identified problems."
Small loans to empower local waste collectors
The project overall goal has been to empower and encourage long-lasting waste management solutions and recycling programmes. Through this, Cities Alliance hopes to create greener, healthier and more sustainable living environments as well as raise awareness within communities in Monrovia, Paynesville and surrounding townships.
Cities Alliance has recently launched an initiative to grant small loans to CBE's and small businesses whose job is to collect household garbage. About $300,000 will be distributed to 21 local organizations working in waste management. Over 75 groups applied for funding. The small loans, which run between $5 000 and $15 000 are important because so much of the job of collecting primary solid waste throughout the Greater Monrovia metropolitan area is carried out by the private sector.
Each day small armies of independent waste collectors fan out throughout the metro area to collect trash. Using wheelbarrows, pushcarts and, more recently, pickup trucks. The CBEs are paid modest fees by homeowners to pick up their trash and haul it away. Without them, waste collection and recycling would probably be more challenged.
The loans will allow the CBEs to purchase better equipment and thus generate employment and more incomes for more people. Importantly, interest on these loans is low, only about 1%, compared to the much more prohibitive 14% charged by commercial banks.
"Kick Dirt Out of Informal Settlements" 
Last month, following awareness and outreach activities in schools and communities in Monrovia and Paynesville, Cities Alliance through World Hope International also hosted sports tournaments for girls and boys whose goal was to raise awareness about the four R's, climate change and solid waste management. The "Kick Dirt Out of Informal Settlements" tournament involved 10 communities in Monrovia and Paynesville. Each team was named after one of the 4 R's and asked to act as change agents within their communities.
We have faced serious challenges with waste collection in Wroto town in the past years. No one in the community cares about solid waste management and people dump waste anyhow.
Kolubah Musu, an official in Wroto town community
"We are pleased that sports have brought us together to clean our community. It was difficult previously to mobilize people to engage in clean up campaigns but because everyone loves football and kickball people have been motivated. This is an approach we shall use every first Saturday of the month to clean our community", he said.