Greater Monrovia Solid Waste Management Baseline
The baseline study serves as the foundation for identifying opportunities to improve solid waste management (SWM) in Greater Monrovia and provide the information needed to develop an effective, economically viable long-term plan for SWM.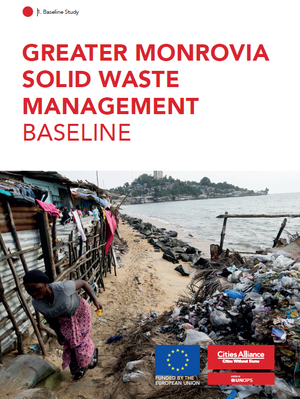 Solid waste management is an increasing challenge for Greater Monrovia and is straining its already-stressed infrastructure. Although Liberia's capital area has the fundamentals of a waste management system, the key actors involved in SWM in Greater Monrovia all recognize that the system needs improving and are actively taking steps to manage waste more efficiently. 
Through the Cities Alliance Liberia Country Programme, the World Bank, the European Union, and Cities Alliance are partnering to support the Liberian government and the Monrovia and Paynesville City Corporations that are responsible for SWM in Greater Monrovia. These activities aim to support an integrated, holistic approach to SWM to ensure that waste is viewed as a value chain, from the household to the landfill.
This report summarizes the baseline waste management research carried out as part of the Cities Alliance Liberia Country Programme to address evidence gaps around SWM in Greater Monrovia. It examines the institutional and regulatory environment for SWM in Greater Monrovia and Liberia as a whole, before exploring the current waste management operations, followed by a detailed presentation of waste quantity, characterization, and density. The report concludes with an estimation of GHG emissions based on the estimated waste forecast. 
Related Reports
Horizontal and Vertical Expansion of the Community-based Enterprise (CBE) System for Primary Waste Collection in Greater Monrovia
Feasibility Models and Action Plan for Composting and Recycling in Greater Monrovia
Feasibility Study on Waste-to-Energy (W2E) in Greater Monrovia