Feasibility Models and Action Plan for Composting and Recycling in Greater Monrovia

These two reports provide costed feasibility models and an action plan to expand the successful Community-based Enterprise (CBE) system into composting and recycling in Monrovia, Paynesville and the surrounding townships.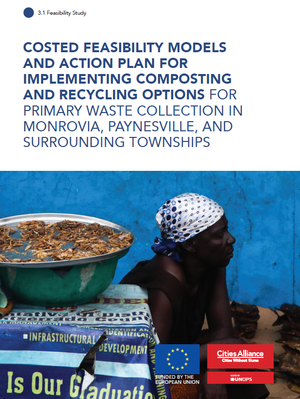 After the Liberian civil war, a simple but robust waste collection system was introduced in Monrovia and gradually improved. A sanitary landfill and two transfer stations were built and the collection system upgraded to cover much of the municipal waste generated.
The Liberian national government and local authorities have identified improving the municipal solid waste management system in Greater Monrovia as a priority. The existing Whein Town landfill is reaching its capacity, and construction of a new landfill is planned in Cheesemanburg. 
The challenge is to offer durable solutions to improve SWM, including prolonging the longevity of the landfill, improving livelihoods, creating jobs, and generating internally alternative financial resources for stakeholders. 
Cities Alliance is working directly with CBEs to ensure that solid waste management in Liberia is viewed as a value chain from the household to the landfill site. To that end, it produced an initial feasibility study and an action plan for expanding the CBE system into composting, recycling, and reuse.
The feasibility study identifies targeted waste flows and value chains to focus on, including collection, transfer, manufacturing process and marketing methods. It outlines priorities for developing composting/activities and offers recommendations. 
The study also looks at entry points to creating livelihood opportunities through waste processing, with a focus on women and youth. It covers municipal waste generated by households and businesses only; it does not include hazardous or medical wastes that must be treated separately.
The second report presents a comprehensive action plan to implement the strategy for developing composting and recycling activities. It includes a composting/recycling value chain strategy for Greater Monrovia, and an action plan for developing these value chains.
Both reports were undertaken as part of a project aimed at improving the primary waste collection system in Greater Monrovia, financed by the European Union and implemented by Cities Alliance through the Liberia Country Programme.
Related Reports
Greater Monrovia Solid Waste Management Baseline
Horizontal and Vertical Expansion of the Community-based Enterprise (CBE) System for Primary Waste Collection in Greater Monrovia
Feasibility Study on Waste-to-Energy (W2E) in Greater Monrovia