Expanding the CBE Business Model in Greater Monrovia

This report explores the horizontal and vertical expansion of Community-based Enterprises (CBEs) for primary waste collection in Monrovia, Paynesville and the surrounding townships.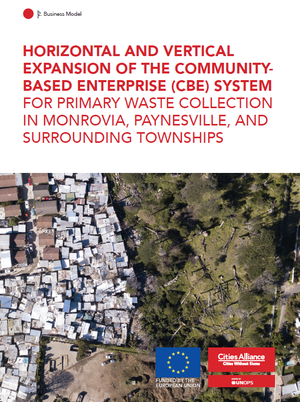 Community-based Enterprises play an increasingly critical role in secondary waste collection in Greater Monrovia. Licensed by the city, these small businesses collect waste from households in areas where the municipalities do not provide service. 
This report analyzes the business models of CBEs currently in operation as well as projected business models, especially for future CBEs to improve the waste collection system.  It profiles five different urban areas where specific business models have
been set up:
Residential and business areas (Central Monrovia, Sinkor and Congo Town)
Densely inhabited slum areas near key business areas (Clara Town and New Kru Town)
High density slum areas without key business areas nearby (West Point and SKD)
Mainly residential, middle-income areas with few businesses (Garnesville, Brewerville, Caldwell, and the outskirts of Monrovia)
Mainly residential, middle-income areas with few businesses and a big market area (Paynesville)
The study finds that the CBEs' profitability and expansion are designed for specific areas, with some requiring greater investments to enable the CBEs to continue their businesses or initiate activity. Across the board, the major challenge for CBEs in Greater Monrovia is the very low number of clients managed on average. This issue will need to be addressed in order to successfully implement diversification projects.
The report is an output of the Cities Alliance Liberia Country Programme. 
Related Reports
Greater Monrovia Solid Waste Management Baseline
Feasibility Models and Action Plan for Composting and Recycling in Greater Monrovia
Feasibility Study on Waste-to-Energy (W2E) in Greater Monrovia