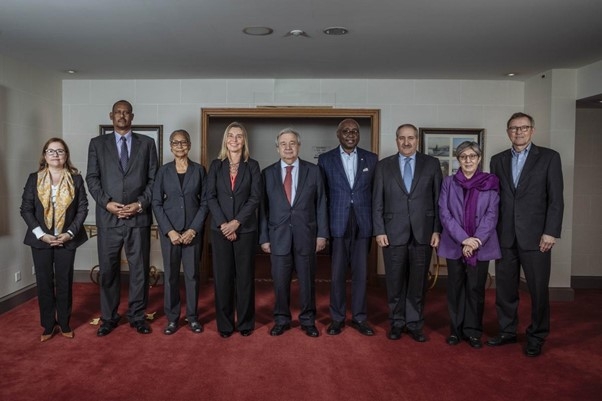 There are currently around 48 million Internally Displaced People (IDPs) in the world, and the vast majority – some 80%, according to the UN High Commissioner for Refugees – live in cities. This makes it critical that local and municipal governments are at the centre of any approach to managing IDPs, who are among the poorest and most vulnerable residents without access to livelihoods, housing, or services. 
Cities Alliance is a strong advocate on behalf of cities and their role in integrating migrants, including IDPs, so that both migrants and host communities can thrive. The partnership works through its Global Programme on Cities and Migration to ensure that this message resonates at the global level. 
Thus, Cities Alliance welcomes the latest report by the United Nations High-Level Panel on Internal Displacement, which embraces the role of urban areas in addressing growing IDP crises around the world.  Shining a Light on Internal Displacement: A Vision for the Future calls for strong action on enabling cities to offer solutions for IDPs.
Cities should not be seen as only the backdrop where displacement occurs, but as a rich ecosystem that can contribute to the resolution of displacement. The presence of markets, infrastructure, services and job opportunities can help IDPs to recover their independence.
Federica Mogherini, High-Level Panel Co-chair, Rector of the College of Europe, Former High Vice-President of the European Commission

The report urges states to recognize that internal displacement is an increasingly urban phenomenon and to support cities in incorporating IDP populations into their urban planning. National authorities can provide policies and frameworks to guide local governments, as well as the financial resources cities, need to include IDPs into their spatial planning and sector-based systems and services. 
It also encourages international partners to work more closely with local authorities through existing city systems, instead of imposing international coordination modalities that typically do not capitalize on vital local capacity and can end up hindering solutions. 
To complement city plans, the report suggests that states develop focused national plans or strategies for internal displacement to guide local authorities through the process, with costs and financing clearly outlined. These detailed plans would help different actors understand how they can effectively work together to facilitate solutions – especially humanitarian actors, who typically are not involved with development plans. 
It is crucial that Governments, the UN, NGOs, international financers, the private sector and civil society work together to articulate such a strategy. The strategy should be designed in consultation and partnership with IDPs and community representatives of all ages, genders and diversities to ensure a nuanced understanding of the context and shared agreement on priorities.
Cities Alliance helped inform the report by providing the High-Level Panel with information on the role of cities and giving municipal representatives and city stakeholders a platform to share first-hand accounts of their capacities and challenges with integrating IDPs in the short and long term.
In October 2020, Cities Alliance jointly organized a webinar on the integration of IDPs in Adama, Ethiopia – a project implemented through the Cities Alliance Cities and Migration Programme. Several Cities Alliance members – including IIED, UN-Habitat and Switzerland – also submitted written contributions to the panel. 
The UN Secretary-General established the High-Level Panel on Internal Displacement in 2020 to prompt action to prevent, respond to, and solve the world's internal displacement crises. It has built on existing efforts within the humanitarian, development, and peace communities to identify bold, concrete, and practical recommendations for member states, the UN organizations, and other relevant actors.