Ethiopia: Refugee Response Resource Mobilisation
This report presents the key highlights of a peer-learning exchange in Ethiopia, focusing on resource mobilisation in support of refugee integration initiatives in the Horn of Africa.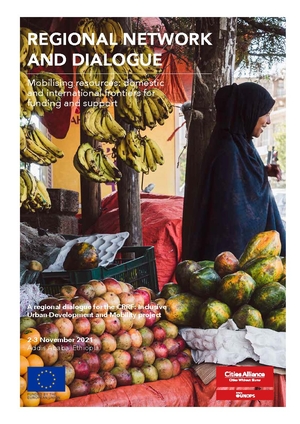 Cities around the world are experiencing the emergence of an unprecedented refugee situation that is often sudden and massive in scale. Over 70 million people worldwide are fleeing their homes as a result of persecution, conflict, generalised violence, or human rights violations. Most refugees and Internally Displaced Persons (IDPs) are now living in urban or semi-urban areas, instead of in camps or purpose-built settlements. This shift has put considerable pressure on cities, especially fast-growing secondary cities in developing countries that are already struggling to meet the needs of their populations.
Cities Alliance with support from the European Union leads an initiative to promote the integration of refugees in cities, in the Horn of Africa region: the CRRF Inclusive Urban Development and Mobility – Regional Network and Dialogue Action. The project includes the organization of five peer-learning exchanges among city stakeholders from Kenya, Somalia, Ethipia and Uganda.
This report summarizes the key outcomes of the second exchange, that took place in November 2021, in Addis Ababa, Ethiopia. The peer-learning continued the process of building a regional network and dialogue to strengthen policy development for greater social cohesion in cities in the region. 
As one of the pilot countries for implementing the CRRF, Ethiopia was selected for the second learning exchange. Ethiopia is one of the largest refugee-hosting countries in Africa, with many settling in the Somali region and its capital, Jigjiga. The city is home to Jigjiga University and its Institute for Migration Studies, which are undertaking important research on integrating migrants through the CRRF programme. The exchange was an opportunity to learn how Jigjiga is implementing the CRRF, the progress it is making, and some of the challenges it faces in the process.
At the first learning event in Arua, Uganda in March 2021, participants from the project's seven partner cities identified fundraising and financing as two critical areas that they wanted to learn more about. The programme for the second learning event was built around this topic. Three technical sessions walked participants through the process of developing a solid, effective fundraising proposal, starting with exploring what inclusion means to their city, how to turn those ideas into practical interventions, and how to attract funding.