Horn of Africa: Supporting Urban Refugees and Host Communities
Drawing attention to refugees residing in cities and their host communities: A report on a regional dialogue examining the needs of secondary cities in Ethiopia, Kenya, Somalia, and Uganda.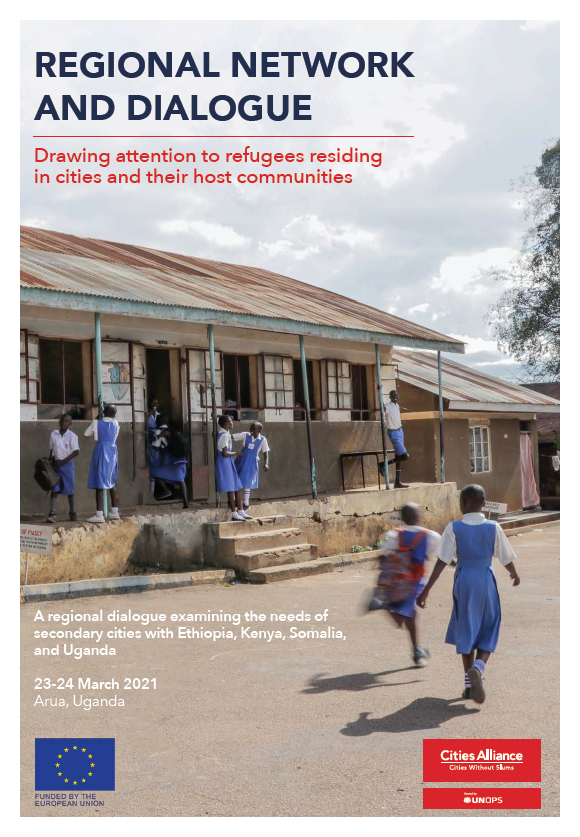 This report summarizes the key outcomes of a peer learning event in Arua, Uganda in March 2021 aimed to begin the process of building a regional network and dialogue to strengthen policy development for greater social cohesion in cities in the Horn of Africa, which hosts approximately one fifth of the world's refugees.
Representatives from Arua and Koboko in Uganda, Kakuma-Kalobeyei in Kenya, Assosa and Jigjiga in Ethiopia, and Gabiley and Boroma in Somalia joined development partners and representatives of national governments to share experiences on local urbanization. Uganda is
one of the largest refugee hosting countries in Africa, closely followed by Ethiopia and Kenya.
It was the first of a series of five learning events planned as part of the Comprehensive
Refugee Response Framework (CRRF) inclusive Urban Development and Mobility – Regional Network and Dialogue Action, implemented by Cities Alliance through its Cities and Migration Programme and financed by the EUTF. The logic behind the intervention is that by supporting secondary cities through regional networking and dialogue, best practices and lessons learned can be exchanged to identify solutions for providing better services to all vulnerable city residents, in particular refugees who are often excluded from formal planning. 
Living conditions and opportunities for refugees and their hosts will improve and the risk of rivalry and conflict will be reduced, resulting in greater well-being and safety. Peer networks and a platform for dialogue across city representatives will promote innovation, learning, and the adoption of best practices.
With its established open-door policy, Arua, Uganda was selected as the first city to host an exchange within the framework of the action. Uganda can potentially act as a leader in demonstrating the implementation of the CRRF to the network of secondary cities in the Horn of Africa.