We are supporting communities and the Government to manage the crisis
Amid the coronavirus pandemic, Cities Alliance Liberia Country Programme is supporting the local authorities and working closely with communities in informal settlements to prepare for and mitigate the outbreak.
PROVIDING WATER STATIONS IN MARKETS ACROSS MONROVIA, PAYNESVILLE AND SURROUNDING TOWNSHIPS
Cities Alliance has donated 75 washing kits to the Ministry of Internal Affairs, to be installed at strategic points in markets in Greater Monrovia. The kits include barrels (200 L), buckets, chlorine and soap.
The support from Cities Alliance will go a long way in the relationship we have built especially when you have come at a time when we are in need. It is very cardinal to respond now especially with the markets because we cannot stop them from doing what they do but to assist them keep safe, said Varney Sirleaf, Minister of Internal Affairs during the donation of the materials in Monrovia.
COMMUNITY ENGAGEMENT THROUGH THE RADIO
The Liberia Country Programme, in partnership with the Liberian Ministry of Health (MOH) and the National Public Health Institute (NPHI), is broadcasting a weekly talk show on ECOWAS radio, the station with the widest reach in the country. The 60 minutes programme includes updates from the NPHI, insights into our and partner's response and a "text box" segment, to give the audience the possibility to text their questions to the MOH experts. Jingles and spots with prevention messages are disseminated throughout the programme. The show is broadcasted on Mondays at 2 PM local time.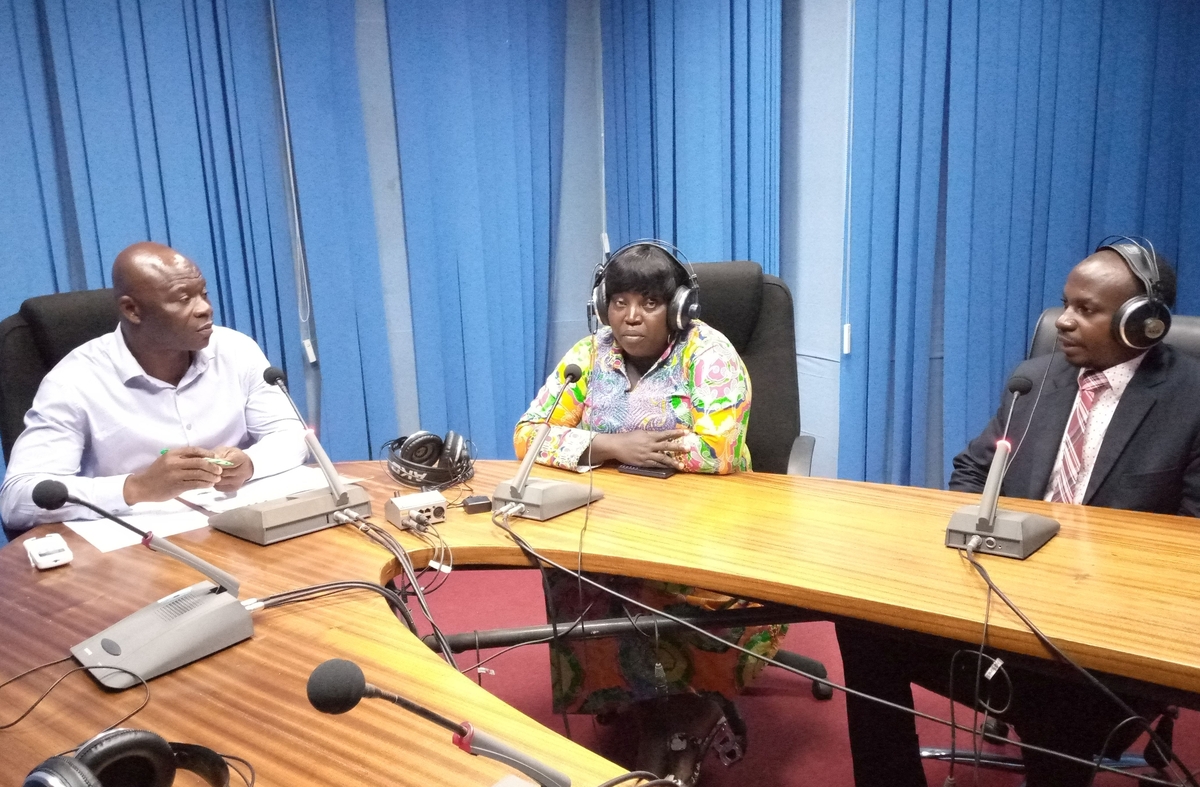 OUTREACH CAMPAIGN IN INFORMAL SETTLEMENTS
We are running an awareness campaign across Greater Monrovia. Two teams of social mobilisers, on vehicles with loudspeakers, disseminate prevention messages to raise awareness among the population about basic hygiene measures, waste management, one of LCP's core focus of work, and gender-related issues, as the outbreak may have an additional impact for women, who make up large parts of the health workforce and are more exposed to gender-based violence and lack of access to reproductive health. The messages have been pre-recorded in Liberian English and other local languages. Posters with prevention measures will also be displayed at strategic locations in 50 communities including West Point and New Cru Town.
Cities alliance Liberia Country Programme is funded by Comic Relief and the European Union.