News Release

Brussels, Cape Town, 9 December 2022 – Cities Alliance and Slum Dwellers International (SDI) launch the second phase of their global collaboration to support recovery projects led by civil society organisations in informal settlements. 
The programme, funded by the Swedish International Development Cooperation Agency (Sida), offers a new path forward to strengthen community-led solutions and reinforce urban poor communities' resilience following the shocks of the Covid-19 pandemic. The second phase will cover initiatives across 16 countries in Africa, Asia, and Latin America. 
The initiative builds on the previous COVID-19 response collaboration between the two organisations to support slum dweller federations across the world in the aftermath of the outbreak.  
Civil society organisations are central to developing resilience in cities.
Gabriela Mercurio, Programme Manager, Cities Alliance
'During the pandemic, SDI federations played a critical role in delivering immediate support and services to the most vulnerable urban residents. This second phase aims at further strengthening community-based urban development, which is central to ensuring a sustainable recovery', said Gabriela Mercurio, responsible for the programme at Cities Alliance. 
Cities Alliance will provide grants to the SDI federations participating in the programme to support projects in fields such as locally-led climate adaptation, livelihood rebuilding efforts, community-driven data collection on informal settlements and improved access to basic services.
'Covid-19 clearly demonstrated the degree of interconnection between recovery efforts and the pre-Covid focal areas of SDI's work,' said Joseph Muturi, Chair of the SDI Management Committee. 'The broadened scope of this phase, which includes climate adaptation, livelihoods, leadership building, and infrastructure upgrading, will support federations in their role as critical actors in the resilient development of their cities.' 
SDI's urban poor federations have shown that they have the social networks and systems in place to respond efficiently and effectively to acute and chronic stressors of urban informal living.
Joseph Muturi, Chair, SDI Management Committee
Through the programme's initial phase, SDI federations delivered essential services in informal settlements, including the provision of hand-washing facilities, personal protective equipment, enhanced livelihood opportunities, Covid-19 hotspot mapping in slums, and improved collaboration with city authorities across 17 countries.
The second phase will be implemented between 2022 and 2024 by slum dweller organisations in Botswana, Ghana, Kenya, Liberia, Malawi, Namibia, Senegal, Sierra Leone, South Africa, Tanzania, Uganda, Zambia, Zimbabwe, Brazil, India, and the Philippines.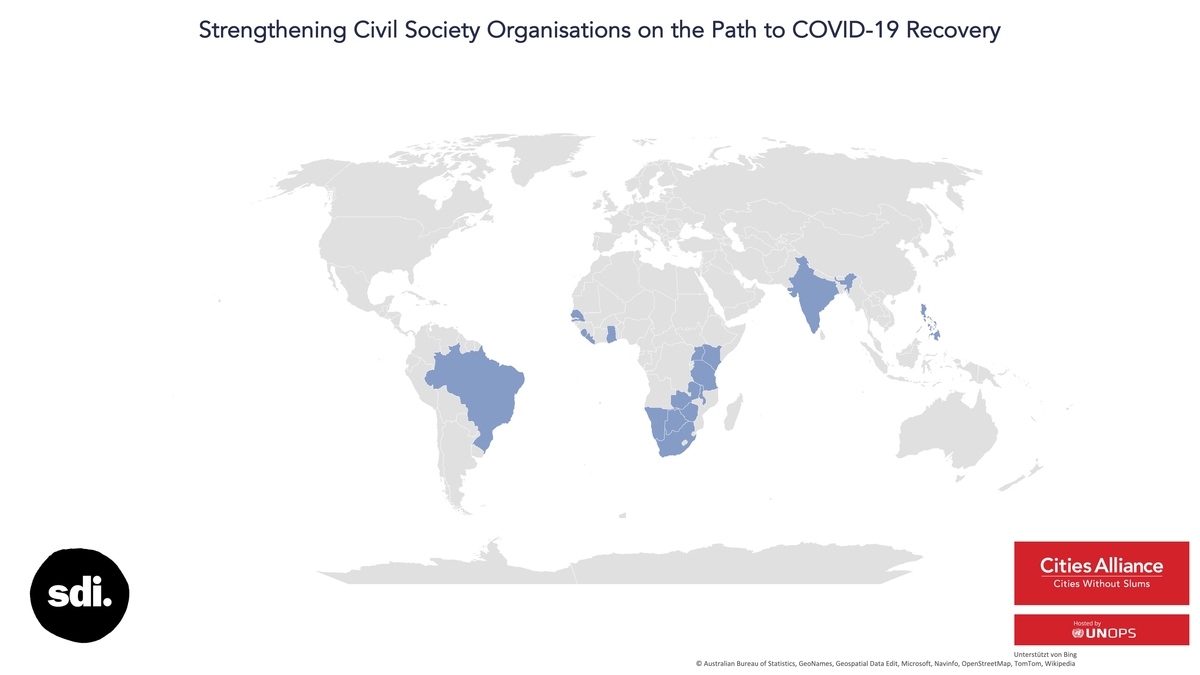 ---
Media Contacts: 
Cities Alliance: Yamila Castro ycastro@citiesalliance.org   
Slum Dwellers International: Cher Petersen cher@sdinet.org