The African Development Bank, Cities Alliance and UNOPS launch a new report on Scaling up essential services in African Cities, as part of a series within AfDB's Sustainable Urban Development Action Plan 2021-2025.
They arrive in Africa's growing cities from rural areas as young adults. With the help of distant relations or contacts from their villages they find a home in informal settlements at the edges of cities and then a variety of temporary odd jobs. In time they start families. Makeshift homes are built by combining locally discarded materials with local lumber or other rapidly decreasing local resources. Roads are made of mud and sewage is uncollected. Whole communities sprout that are vastly underserviced with local infrastructure.
Such migratory stories are transforming cities across Africa. They are one of the reasons why the continent has many of the world's fastest-growing economies. But infrastructure shortfalls are holding Africa back from reaching the next level of development and improving the lives of residents.
The case for infrastructure spending is obvious. But how can we deal with this vast backlog in service delivery?
The need for more infrastructure, from water systems to waste management to energy, to support growing urban populations is staggering. In much of the continent poorly managed urban growth has resulted in the proliferation of slums, informal settlements, urban poverty and rising inequality. Yet the financing available to undertake such projects is inadequate.
Much of the continent's needs are not keeping up with population growth and an enormous backlog of infrastructure projects lacks funding. Indeed, the needs are so great that the business-as-usual approach to sustainable urban development won't work and new models of infrastructure financing and delivery, that respond to the current fragmented infrastructure networks and hybrid urban service delivery patterns, are necessary. 
Over the past 20 years, Cities Alliance has been at the forefront of documenting such challenges and finding local solutions across all regions of Africa.
We run country programmes across the continent and undertook recently a very detailed study of 32 African cities in four countries: Mozambique, Ghana, Ethiopia, and Uganda. The studies looked across the dimensions of governance, citizenship, the environment, the economy, and the level of essential services.
This deep and practical understanding of the challenges facing African cities at the national governance, city capacity and community levels, served as the basis to develop a series of papers in support of the African Development Bank Sustainable Development Action Plan 2021-2025 (SUDAP).
The SUDAP papers were articulated around key areas: Governance, essential services, mobility, housing, circular economy, climate change, and resilience. 
Essential Fixes for City Services
In the case of providing more essential services, the new report Scaling up Essential Support in African Cities, jointly produced by AfDB, UNOPS, and Cities Alliance, shows that many of Africa's cities face service crises.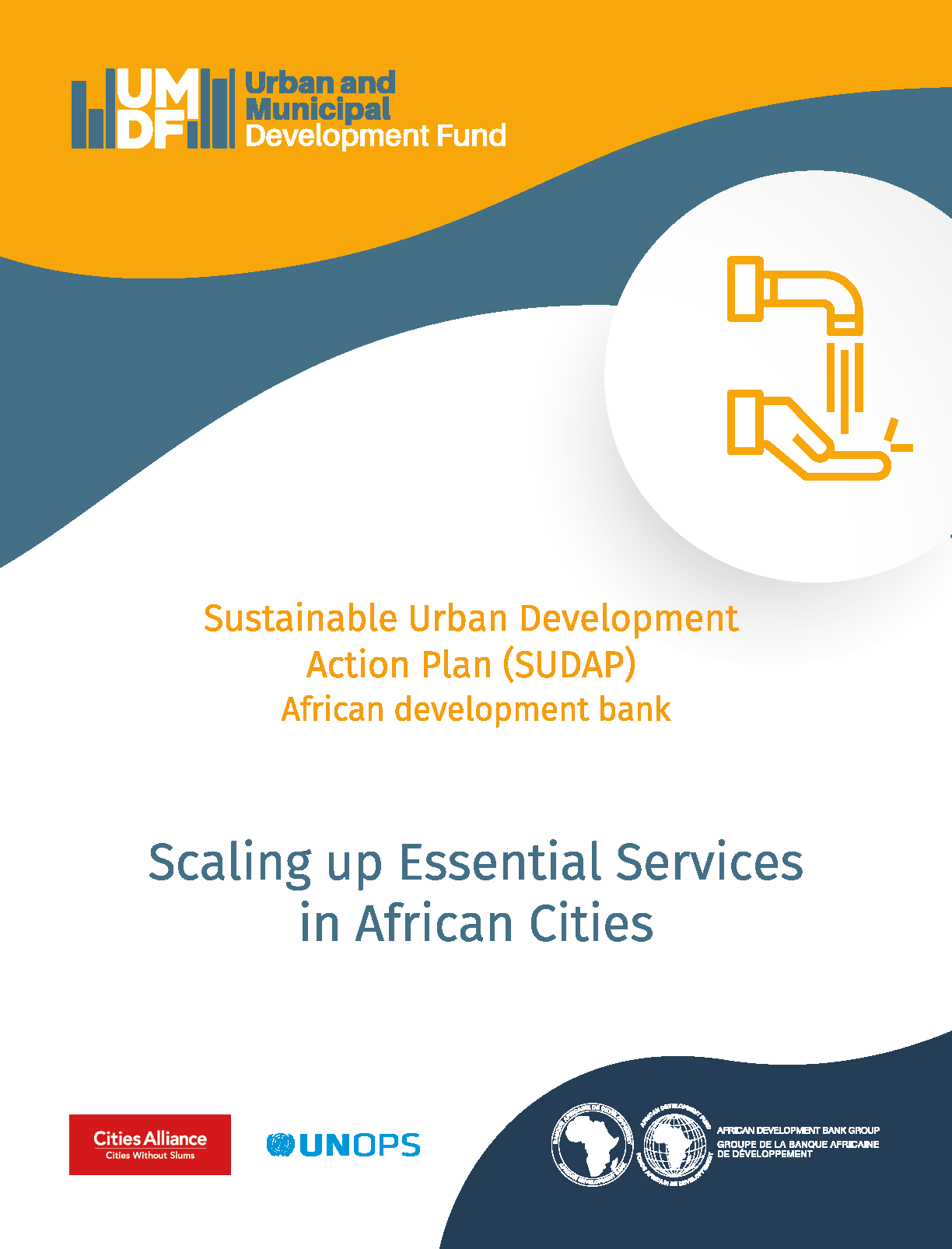 The publication, launched at the World Urban Forum, highlights the need to break away from the notion of large-scale delivery of services as the only way of service provision and consider instead the informal economy, community organizations, and public-private partnerships as some of the channels to deliver services. 
The report provides recommendations based on transformative approaches to infrastructure development in Africa, in countries such as Togo. Kenya and Uganda. The recommendations follow a three-pillar approach:
quick-win, wide impact work on renewable energy and digital infrastructure ;
interconnected, system-based and critical intervention to provide access to water;
improved sanitation and waste management, as fundamental services for basic human health.
We need to focus on what is possible to do quickly and that has a big impact. The heavier infrastructure projects need to be decentralized, as do the provision of services principally around issues of sanitation.

 
Julian Baskin, Principal Urban Advisor, Cities Alliance
Africa is at a turning point. The challenges of development are plentiful but so are the opportunities. African cities have the opportunity to adopt low-emission climate-resilient and equitable development pathways to respond to the climate crisis while simultaneously reducing poverty and inequality.