Over the past 24 years, Cities Alliance has supported cities to deliver sustainable development. Cities Alliance results highlight our longstanding track record of addressing urban poverty and improving the living conditions and resilience of the urban poor.
Since 1999, Cities Alliance has engaged with national and city governments to improve governance, citywide service delivery and increased resilience through the improved and inclusive management of urbanisation, including 176 City Development Strategies.
Read more of our key results below.
Improving living conditions and resilience through inclusive urban planning since 1999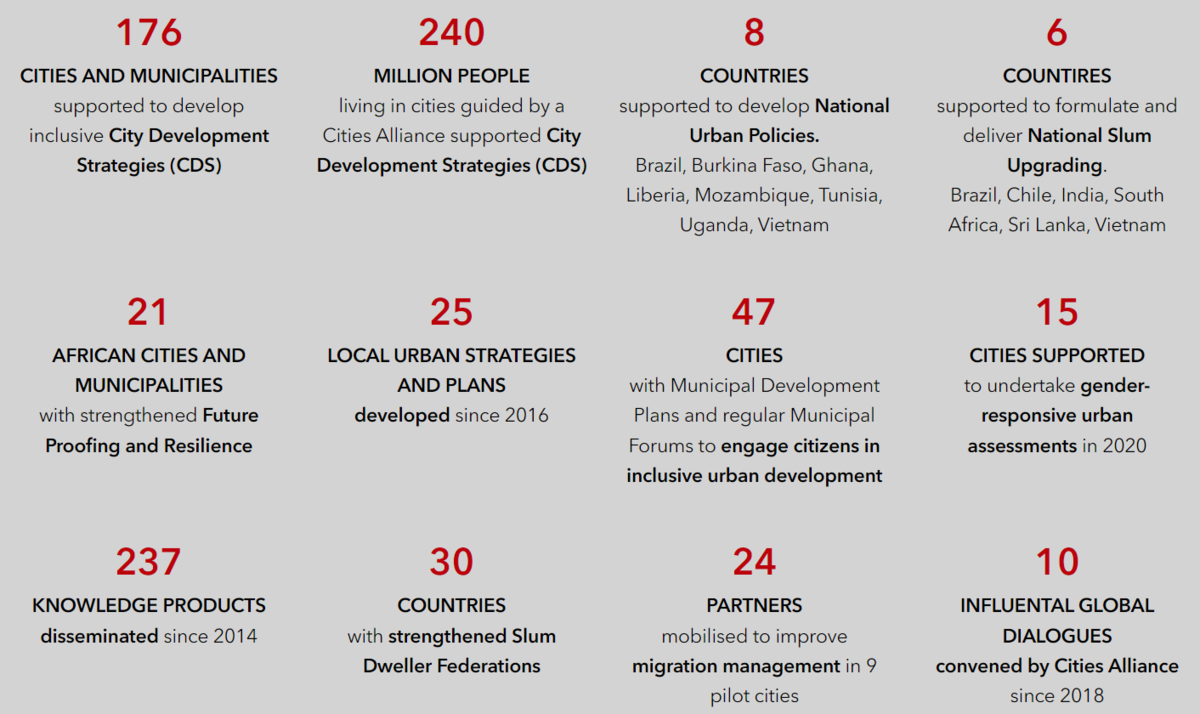 Cities Alliance works with civil society, governments, and partners to empower urban poor communities and facilitate the active participation of women and girls, and has improved the wellbeing, health and livelihoods of the urban poor through direct improvements in access to basic services.
Cities Alliance supports the long-term institutional capacity of its partners and has engaged national and local authorities, urban institutions and associations, civil society, universities, and SMEs in institutional strengthening. Cities Alliance catalyses urban transformation processes, incubates new thinking and new partnerships among urban development actors.
Empowering urban poor communities and the active participation of women and girls
Innovation for urban transformation
63
INNOVATIVE PROJECTS on topics related to the challenges of adaptation to climate change, secure tenure, migration, collaborative data initiatives and youth and the city and with a total budget of USD $8 million in seed funding, were able to promote fresh thinking, policy influence and scale.
Results of the Strategic Plan 2018 - 2021
2021 marked the final year of the four-year period of executing the "Cities Alliance Strategic Plan 2018-2021 – Implementing the SDGs". Under the 2018-21 Strategy, Cities Alliance achieved a substantial global presence, with operations in 63 cities across 30 countries, and with an annual direct reach of over 800,000 people by 2021. Further highlight results include:
At the end of the Cities Alliance 2018-2021 Strategic Plan period, seven of the nine programmatic indicators were fully met, and six (two thirds) had significantly exceeded strategic targets.
The one indicator that had a weaker performance was the amount of funds leveraged, which amounted to a total of US $21 million, against a strategic target of US $60 million. Performance here had improved year on year but fell after 2020 (and may reflect an overall trend of falling investments to cities during the COVID-19 pandemic). Two of the capacity indicators significantly outperformed strategic targets and the third is a lagging indicator as evidence of the uptake of toolkits and TA products takes time to emerge.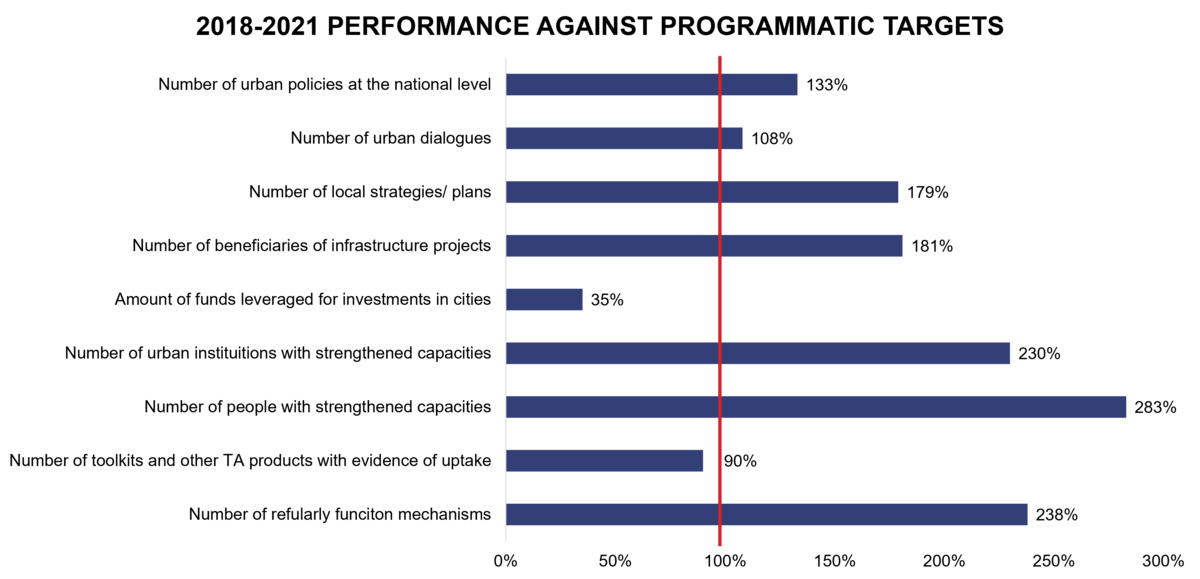 25 local strategies and plans were developed to improve inclusive governance, citywide service delivery and increased resilience.
Over 1 million people gained improved wellbeing, health and/or livelihoods as direct beneficiaries of Cities Alliance infrastructure projects.
598,594 residents of densely populated settlements in Greater Monrovia with improved access to basic services.
484,805 residents of cities in Tunisia, Uganda and Ethiopia have improved public space.
130 urban institutions and an average of 4,275 individuals with strengthened capacity to catalyse urban transformation through inclusive city governance and to sustain impact and scale.
18 toolkits and other TA products show evidence of uptake by the stakeholders and/ or beneficiaries.