Somalia: Community-Based Disaster Risk Management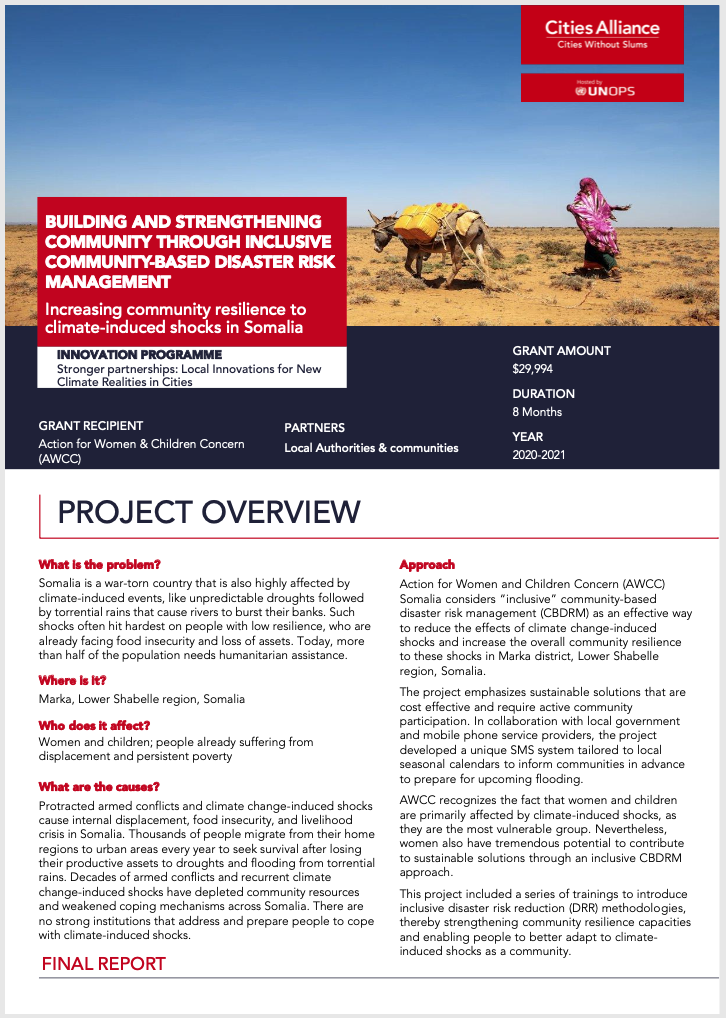 Deadly flash floods, record-shattering heatwaves, and raging wildfires continue to dominate headlines around the world as climate change intensifies. Yet changing people's perceptions about the growing climate crisis continues to be a global challenge, whether in small, traditional rural communities or in the midst of the world's largest economic and population centres. 
In the flood-prone Lower Shabelle region of Somalia, droughts followed by torrential rains and overflowing rivers destroy crops, homes and livelihoods, and displace thousands of people each year. The impacts of these disasters often fall hardest on families who are already suffering from persistent poverty and from the effects of protracted armed conflict.
However, despite the increasing frequency of weather-related disasters, awareness about climate change is limited in Somalia, as is community-based preparation for future emergencies. 
Action for Women and Children Concern (AWCC), a non-governmental Somali grassroots organisation, has implemented a project aimed at managing and reducing disaster risks in the district. The project, Building and Strengthening Community through Inclusive Community-Based Disaster Risk Management, is funded by Cities Alliance through the Stronger Partnerships: Local Innovations for New Climate Realities in Cities initiative, with support from the Swedish Development Cooperation Agency (Sida) and the German Federal Ministry of Economic Cooperation and Development (BMZ). 
The initiative has overall contributed to help communities build awareness about climate change, increasing community capacity and resilience. It has also fostered collaboration with local government, mobile service providers, and local radio media to develop an early warning system for flooding and other climate-related events.
This final report provides an overview of the project, its achievements, key lessons learned, and future steps.