Climate Adaptation Through Waste Management in Uganda
How can waste management help reduce flooding, raise income opportunities for women and create cleaner, greener and more climate-resilient communities? Tree Adoption Uganda (TAU), an organization working to inspire and advance environmental stewardship in local communities, is running a unique project in Kampala to address these challenges.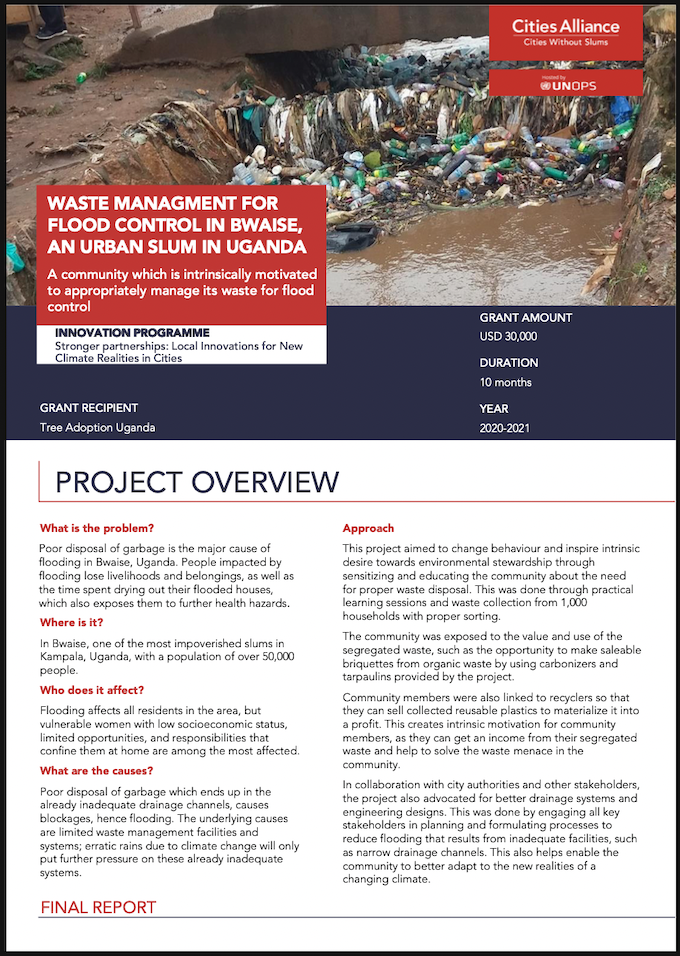 Flooding has become a major problem in Bwaise, where runoff from the increasingly erratic rainfall can overwhelm local drainage channels. The channels are often choked with household garbage, which causes blockages in the system and sends dirty water coursing through the community. The floodwaters not only damage property but expose residents to waterborne health hazards as they try to clean up and dry out their homes and belongings. 
The TAU Waste Management for Flood Control project addressed this issue by improving household waste disposal, livelihood opportunities and climate resilience through community engagement, education, incentives and advocacy.
The project has been supported by Cities Alliance through the Stronger Partnerships: Local Innovations for New Climate Realities in Cities initiative, in partnership with the Swedish Development Cooperation Agency (Sida) and the German Federal Ministry of Economic Cooperation and Development (BMZ).
Thanks to the initiative, the environment in Bwaise has visibly improved and the drainage channels flow better. TAU is now exploring the potential for replicating this project in the surrounding communities due to the moving of waste through stormwater from higher elevation neighbourhoods down into the local neighbourhood
The community clean-ups and other activities in Bwaise have also inspired a spirit of collective action to solve problems locally. The community plans to continue the monthly clean-ups and has been inspired to investigate possibilities for future community action, such as planting fruit trees for shade, food and heat mitigation to increase resilience to climate change.
This 4-page final report provides an overview of the project, its achievements, key lessons learned, and future steps.