COP27: New Partnerships that Work for People and Planet
Cities Alliance, WWF and the VELUX Group are hosting the side event "New partnerships that work for people and planet: Linking livelihoods and nature-based solutions" at COP27's EU Pavilion.
In the wake of increased interest and pledges from both the public and private sectors to scale nature-based solutions (NbS) for climate action, it is time to go beyond the usual forms of collaboration.
This session, part of the EU side events at COP27, will showcase global partnerships between diverse actors uniting for the implementation of high-impact solutions for climate mitigation, adaptation and livelihood creation. It will provide a platform to exchange challenges, opportunities, and lessons from projects, when blending NbS with active civil society engagement and local government to form partnerships.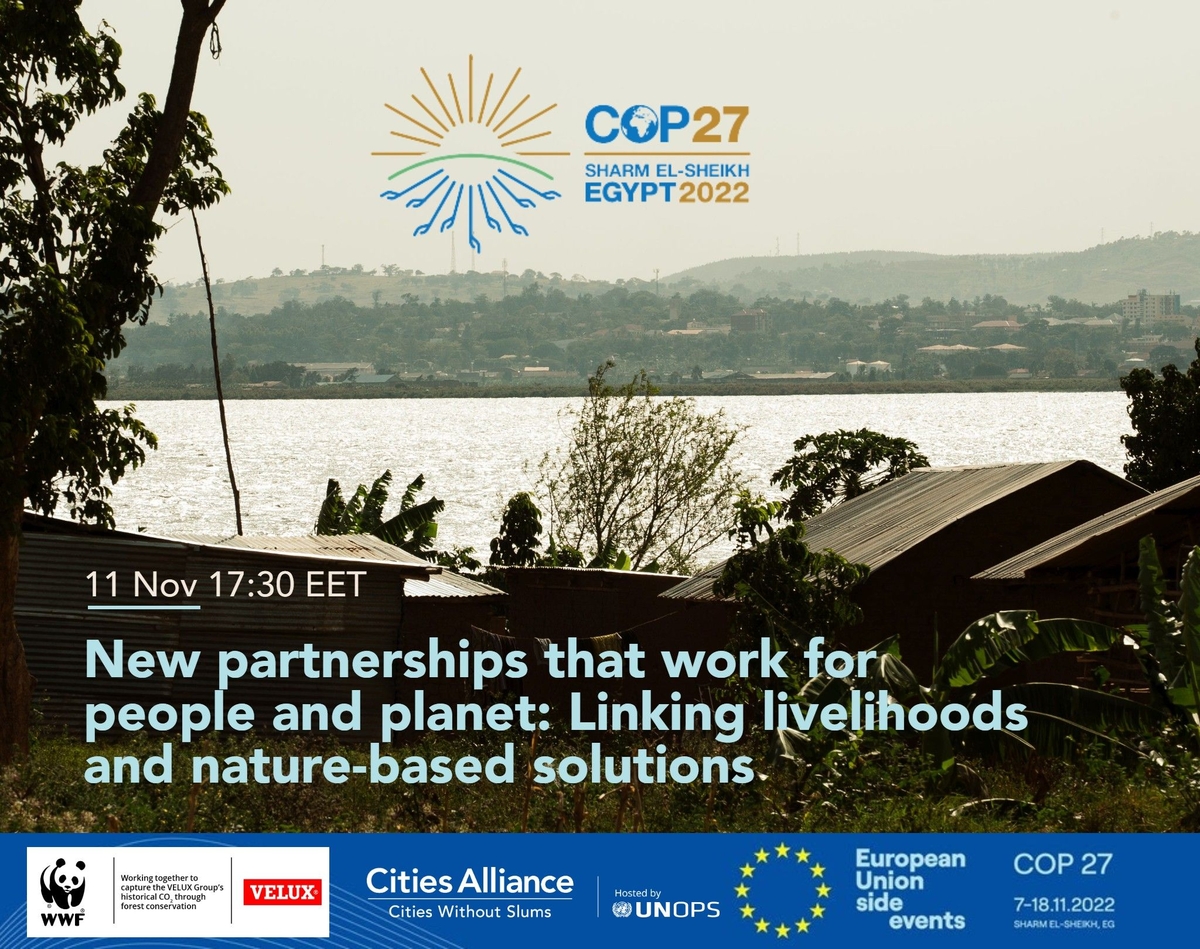 Cities Alliance will present an EU-funded project around the rehabilitation of the Kinawataka wetland, one of the biggest biodiversity spots in Uganda's capital region. The ecosystem has been severely damaged due to the high density of the informal population living in the area and the lack of adequate sanitation infrastructure. The project seeks to address waste management services while improving livelihoods and actively involving local communities. The initiative is being implemented in partnership with the Ugandan section of Slum Dwellers International.
WWF and Velux will introduce another project in Uganda that will regenerate and protect natural forests and capture app 1. Mio tons of CO2. The project area is situated within the northern part of the Albertine Rift – a world-class biodiversity hot spot nicknamed 'the Galapagos of Africa'.
Speakers:
Deborah Asikeit, Country Manager, Cities Alliance Uganda

Sarah Nandudu, National Coordinator, National Slum Dwellers Federation of Uganda

Jamie Rusby, Group Sustainability Director, VELUX Group
Simon Peter Weredwong, Conservation Programmes Manager, WWF Uganda
Moderator: Greg Munro, Director, Cities Alliance
The event will take place online at the EU Pavilion at 17:30 EET / 16:30 CET. Register 
---
Watch the recording: