8APHF: Building Forward Better for Inclusive Housing
Cities Alliance supports the organization of the 8th Asia-Pacific Housing Forum, through the track: Build resilient cities and communities.
As countries face the repercussions of the COVID-19 pandemic, the housing sector can be a key element for economic, social, and environmental recovery. For more than a decade, the Asia-Pacific Housing Forum has gathered major stakeholders engaged in seeking solutions to affordable housing issues and promoting adequate housing as a driver of economic development. 
The eighth Asia Pacific Housing Forum (8APHF) will take place virtually between December 7 – 9, 2021 with the theme Building Forward Better for Inclusive Housing.  
The regional housing forum is part of a Global Housing Forum series organized by Habitat for Humanity in collaboration with other organizations including Cities Alliance. Other regional forums have been held this year in Latin America and the Caribbean (May 2021) and in Europe (Nov 2021).
8APHF's track Build resilient cities and communities, focuses on how city leaders can gain new insights and possibilities for transformation and shape the recovery efforts by working across divisions and in partnership with the local community and business leaders. Cities Alliance will be curating and moderating 4 sessions with partners Cadasta, Center for Policy Research, Center for Urban and Regional Excellence, Habitat for Humanity, National Institute of Urban Affairs of India (NIUA) and the World Bank.
Inclusive Cities through Slum Upgrading - 7 Dec. 5:30 - 7:30 am CET

Securing land, housing and property rights for all - 7 Dec.  8:00 - 10:00 am CET 

Building resilience through provision of urban infrastructure and basic services - 8 Dec. 5:00 - 7:00 am CET 

Improving access to housing through a gender and vulnerability perspective - 9 Dec. 5:00 - 7:00 am CET
The events will be leveraged to promote innovations, share promising solutions, and enable more connectedness and collaboration among stakeholders to improve policies and practical solutions that improve access to safe, adequate and affordable housing for all.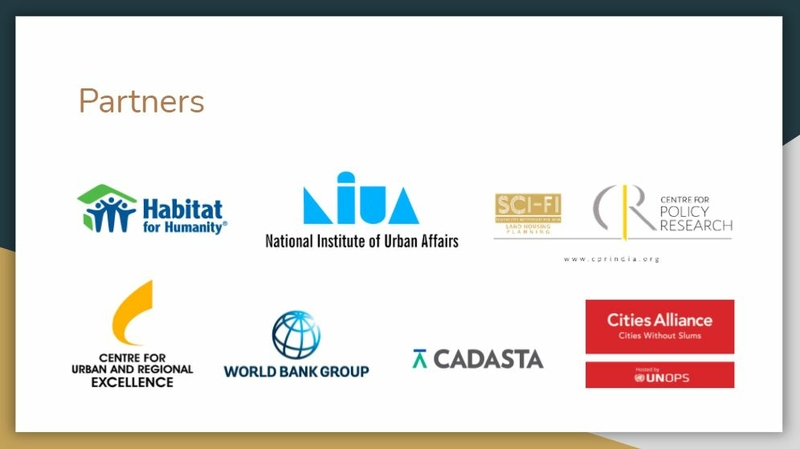 Register here. Find more information and the main programme on the Forum's website.