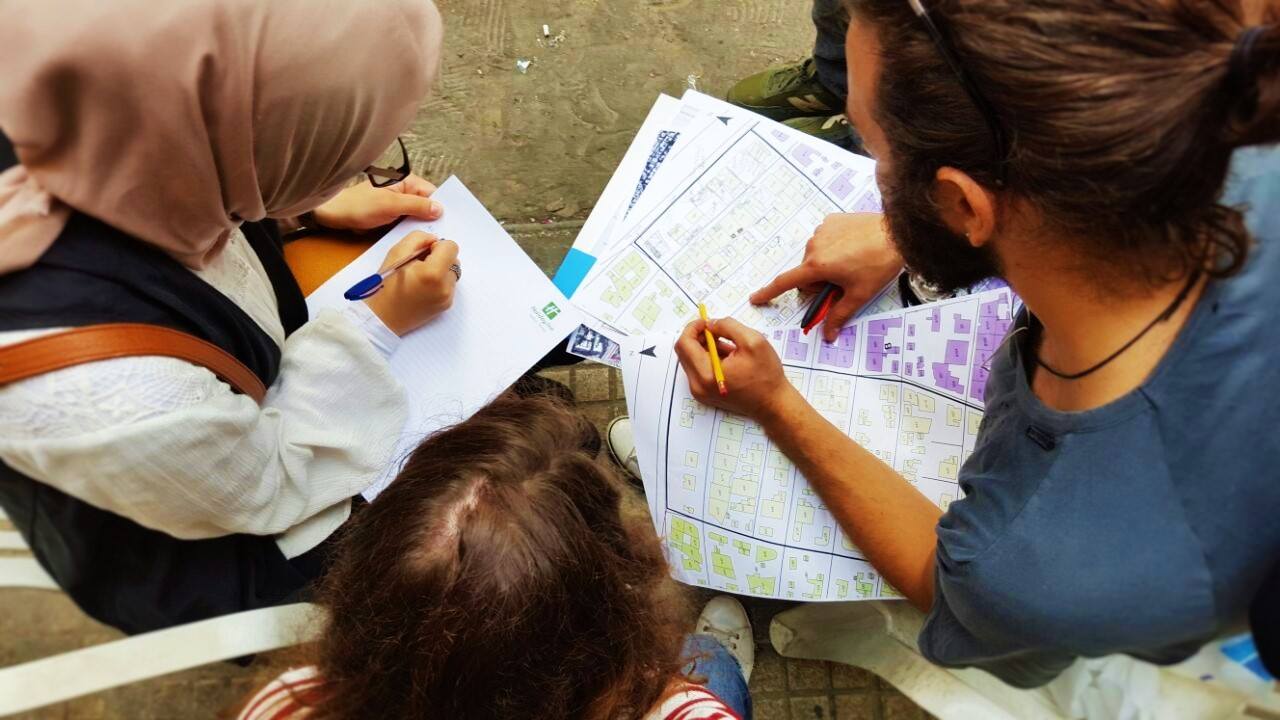 Field surveying, Beirut, 2017 (Migration CfP)
Many of our funded projects demonstrate a long-lasting impact beyond project closure as their approaches were upscaled or institutionalised. Others changed government policy in the long run, led to follow-up funding, or became the starting point for new programmes. Here are some examples:
Promoting Scale

A number of Innovation Programme projects were sufficiently successful to have been replicated and upscaled to other areas.

Creating safer communities in Bogotá, Delhi, and Nairobi: Based on successful pilot projects in Bogotá, Delhi, and Nairobi funded by the Cities Alliance, SafetiPin received follow-up funding from several donors (UN Women, the Asia Foundation, and The Secretary of Women Bogotá). SafetiPin has since upscaled and replicated the safety audits by conducting a second phase and expanding into new cities and countries. And in response to the safety audits, the municipality of Delhi improved over 70 per cent of the dark spots identified by SafetiPin.

 

Improving local government accountability in La Paz, Bolivia: An online platform that allows residents to send real-time feedback on municipal services improved the accountability and service delivery of the municipal government significantly. The municipality is currently planning to expand the tool into other neighbourhoods.

Watch a video summarizing the project.

 

Increasing citizen awareness of rights and services in Guinea-Bissau: The NGO ESSOR introduced one-stop shops that have made it easier for residents of underprivileged neighbourhoods to access information on basic services and to contact local authorities. Their success enabled the organisation to secure follow-up funding from the European Union, allowing project activities to continue and additional one-stop shops to be created.

Watch a video summarizing the project.

 

 

Institutionalisation

Some Innovation Programme project activities or tools have been taken up and institutionalised by communities and local governments and are continuing to transform many cities.

Placing youth at the centre of neighbourhood rehabilitation in Dalifort-Foirail, Senegal: Youth were mobilised towards rehabilitation of their neighbourhood and trained through community development projects. Many of the established structures and positions have been integrated into the municipality's social work, such as the community security guards and a youth office, which are now run and financed by the local authority. 

 

Improving public safety in Lima, Peru, and Guatemala City: Citizen collectives formed in Lima continue with the project activities of informing their communities on public safety. Similarly, the capacities of the reporting platform on public transportation safety were transferred to local authorities in Guatemala City through a cooperation agreement after project closure.

 

Centres for youth employment in Nouakchott, Mauritania: With Cities Alliance funding, the NGO GRET pioneered a systematic approach to youth employment by establishing one-stop centres and cooperation with local authorities, companies, and civil society organisations. The centres were so successful that the concept was integrated into a Mauritanian government national vocational training programme for youth.

 

Influencing Policy

Through close engagement with authorities, Innovation Programme projects influence local and national policies over the long term.

Making the case for incremental tenure in South Africa: An Innovation Programme project developed a practical regional booklet demonstrating the need for incremental tenure in slum upgrading processes and which influences policy makers' thinking today. 

 

Data platforms for advocacy and planning in India and the West Bank: Open data sets established by Innovation Programme projects in East Jerusalem and India remain accessible to the public beyond project closure and continue to inform advocacy work and influence decision-making processes. 

Watch a video summarizing the project in India and the West Bank.

 

Using evidence to advocate against forced evictions in Myanmar: Mapping activities of informal settlements and the related advocacy activities have played a significant role in influencing the government to refrain from the practice of forced evictions. 

Watch a video summarizing the project.

 

Capacity Building & Empowerment

Trainings, awareness raising and advocacy campaigns were some of the activities deployed by Innovation Programme projects to promote long-lasting changes.

Enterprise to empower domestic workers in Bangladesh: through job matching, rights awareness, training, and advocacy work, CityWorks takes a four-pillar approach to ensuring rights and opportunities for domestic migrant workers in Bangladesh. Implemented by Oxfam, the approach combines setting up of a social development company while promoting larger, structural changes by engaging active citizens to negotiate for more accountable governments.

 

Training of migrant community paralegals in Nigeria: the Community Legal Support Initiative provided support for slum communities that were largely populated by migrants and immigrants to organise and gather data, and then engage with policymakers and government agencies to build a more inclusive Lagos. The project also provided training and support for a network of migrant community-based paralegals in Lagos slums so they can provide grassroots legal services to migrants.

 

Building capacities of youth, local governments, and NGOs in Chad: the social and economic integration young people in the Walia, Dembé, Chagoua and N'djari neighbourhoods in N'Djamena was improved through the implementation of socio-educational, training and professional integration and capacity building schemes of community organisations in these areas.

 

Shifting Systems

Through collaboration and coordination with diverse stakeholders, some Innovation Programmeprojects developed inclusive and holistic approaches to urban challenges.

Innovative partnership of slum dwellers, planning schools and local authorities on inclusive informal settlement mapping and upgrading in Kenya, Namibia, Uganda, and Zambia: different communities have gained valuable IT, community organisation and mapping skills and better understand the importance of advocating for their rights. The next generation of urban planners is learning "hands-on" the concept of promoting inclusive cities. Authorities, in turn, are showing greater understanding and appreciation for participatory urban planning.

 

First multi-stakeholder coordination on integration of involuntarily returned migrants in Guatemala: representatives from different sectors who are directly related to migration and social inclusion, including the public and private sectors, academia, and civil society were brought together to improve the effectiveness and results of their actions aimed at integrating deported migrants into the labour market and local economy in Guatemala.

Watch a video summarizing the project.

 

Urban taskforce from different city sectors to develop inclusive policy responses and city initiatives for migrant inclusion in Italy: urban actors were gathered together to co-plan community development initiatives involving both long-term residents and newcomers in Bologna. An online and offline communication campaign to change the narrative on migrants and showcase the positive impact migration can have on a community was also a key component of the project.

 

Building on Innovation

The Innovation Programme establishes partnerships that open doors to new projects or programmes.

Catalysing a Country Programme in Liberia: A grant to the municipality of Monrovia to improve their municipal data collection system in 2014 was an essential starting point for the fully-fledged Liberia Country Programme with USD 13 million funding from UK-Charity Comic Relief, the European Union, and the World Bank. 

 

Laying the foundations for a potential Country Programme in Sierra Leone: Building on the successful experience in Liberia, the Cities Alliance has started discussions with Comic Relief about a potential Country Programme in Sierra Leone. From 2013 to 2015, Comic Relief was partner of an Innovation Programme project which supported the empowerment of Sierra Leone's young slum dwellers and is now seeking to re-engage with the Cities Alliance. 

 

Empowering slum dwellers in Nigeria: The Collaborative Media Advocacy Platform (CMAP) is empowering Nigeria's slum dwellers through community radio and media training to raise their voices and engage with the local government. CMAP has become a central partner for informing the Cities Alliance's expanding work on forced evictions. The Cities Alliance has supported CMAP in applying for further funding possibilities and is looking to leverage its network, tools and experiences for a long-term engagement in the country. 

Watch a video summarizing the project.

 
Without innovation there is no way we can overcome the challenges of our times.
 António Guterres, UN Secretary-General