Women Talking, Kampala Listening
Cities Alliance has been active in Uganda for more than a decade, working with national and local authorities, development agencies and community-based organizations to design and support a variety of urban operations. In 2019, the Uganda Country Programme began implementing the Kampala-Jinja Expressway (KJE) "No One Worse Off" project, seeking to address the social and environmental safeguards required for the construction of the KJE in the country's central and eastern regions.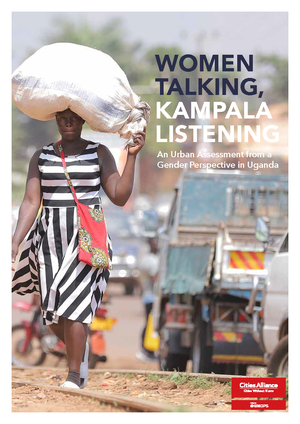 Within this framework, the Cities for Women Programme organized a citywide laboratory in Kampala, in March 2021, with women from different sectors to assess their level of participation in the city making. The workshop sought to improve gender awareness of city policymakers and local stakeholders, identify obstacles and enablers for women's engagement in urban governance and planning, and promote women's active engagement in city governance and planning. The Women Talking, Kampala Listening report provides recommendations for city policymakers and local stakeholders, including the need to improve housing, safety, and mobility for women in the city, along with measures to boost women's political participation and strengthen their role in the economy. The results of this engagement will inform ongoing and future Cities Alliance projects in Uganda, including the KJE "No One Worse Off" project, the Cities and Migration Programme, and specific COVID-19 response actions in informal settlements — thus supporting the country in meeting its 2040 Vision goals.
Download the report from here.