The impacts of climate change are heavily felt by urban dwellers in Bangladesh – especially in the informal settlements of fast-growing cities. The ERUP project aims to provide solutions that will enable communities to build resilience against the negative effects of climate change.
This article was first published on URBANET
More than 100,000 people live in the informal settlements of Satkhira in the Southwest of Bangladesh. As the medium-sized city is located close to the sea near the Bay of Bengal, inhabitants feel the effects of climate change first-hand: frequent floods, cyclones, and the salinisation of the groundwater are major problems. The result is extreme poverty. In addition, people flee to Satkhira from other regions that are even more affected by natural disasters.
For this reason, the community in Satkhira was selected as one of the four Urban Living Labs worldwide within the ideas competition Cities CHALLENGE 2.0 "Building Vibrant and Resilient Neighbourhoods", funded by GIZ. Cities CHALLENGE 2.0 tests innovative solutions for sustainable planning and building and contributes to the creation of climate-adapted, connected, and liveable neighbourhoods.
Promoting Spatial Justice by Intervening in Public Spaces
Spatial justice is a key aspect of sustainable planning and building as it addresses the just distribution of resources, opportunities, and services within a given space. In Satkhira, the Dhaka-based NGO Anando, together with the support of local partners and GIZ, is recognising the need for spatial justice through the project "Enhancing Resilience of Urban Poor (ERUP)". The aim of ERUP is to not only improve the quality of life of individual residents but to increase the quality of life for the entire community through interventions in public spaces.
Homestead Gardening
A key element of ERUP is to promote food self-sufficiency of the urban poor. To this end, the project selected a total of 150 households to grow different types of vegetables either in the front yard, backyard or on the rooftop of their small brick houses. Training and workshops were provided to the women so they could transform their rooftops and backyards into vegetable gardens. This solution not only provides families with nutritious food which they can either consume themselves, distribute among their relatives, or even sell to their neighbours.
Homestead gardening can also help to reduce home temperatures. The women were guided to plant creepers and trees – not only to harvest the yield but also to protect their houses from the strong sunlight. Creating shade and growing larger plants lowers the indoor temperatures of the houses as well as the direct surrounding temperatures.
The beneficiaries were also provided with additional resources like compost, soil, and pipes for collecting rainwater. Previously, they participated in a comprehensive training course from the Department of Agricultural Extension (DAE) on climate-resilient technologies for home-based horticulture. In nine learning sessions, participants learned about climate change and how heat island effects occur. They also learned how to sow seeds and plant seedlings, and that vegetables can also grow on vertical bamboo trellises along their house walls. Another important lesson was the production, collection, and storage of seeds.
Group Savings and Investment
It is only through long-term investment in resilience that interventions will be sustainable. The women were therefore invited to participate in the savings programme "Group Savings and Investment" to save for times of crisis, tuition fees for their children, or medical expenses for family members. Participants met weekly to collect their savings. The savings can help families in times of financial difficulties – for example, to recover from shortage situations – and also support their plans of building a nicer and more beautiful home for their families.
Sales Cum Display Centre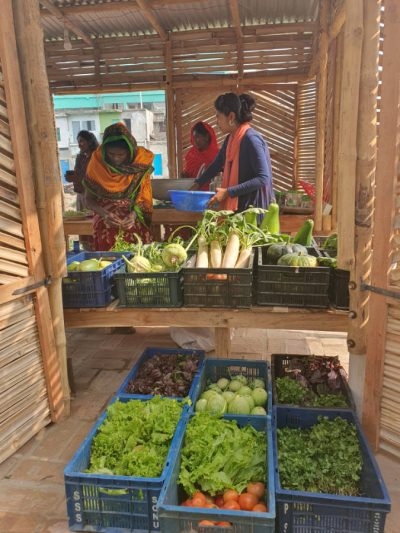 As mentioned, the vegetables grown by the beneficiaries can be used for self-consumption but also as an additional source of income. An important subproject of ERUP is therefore the creation of a new "Sales cum Display Centre" (SDC) that is being built on a plot of land near a local market in Pakka Pole. Here, the women can sell the surplus of their vegetable production at a market stall made of regional building materials. The centre is managed by young women, people with disabilities, and the elderly. Selling vegetables, crops, and ornamental plants through the centre enables them to generate income and improve their livelihoods.
Learning About Climate Change
In the framework of ERUP, it was also observed that despite rising urban development efforts, many urban spaces remain abandoned and unused – like the local Razzak Park in Satkhira. Therefore, ERUP took the opportunity to develop "Climate Change and Digital Learning Hub" (CDLH) next to the public open green space and opposite the public library. In this Learning Hub, young people will be educated on climate change impacts and home-based gardening.
Upgrading the area into a public green space, with a rainwater harvesting facility being included, functions not only as a new space for information on climate change. It also serves as an educational opportunity for urban greening and water management options at the household and public space level. This results in the community having knowledge of municipal services, climate adaptation, and mitigation measures and supports the collective awareness of impact reduction and early warning systems.
The ERUP project in Satkhira, Bangladesh, is a good example of how a community-based initiative can work towards promoting spatial justice and building resilience against the impacts of climate change. By providing access to resources and educational opportunities, and by empowering residents to take charge of their own well-being, the project is working towards creating a more equitable and sustainable urban environment.
---

The Cities CHALLENGE 2.0 is an initiative led by the Deutsche Gesellschaft für Internationale Zusammenarbeit GmbH (GIZ), in partnership with Cities Alliance and UN-Habitat. It aims at piloting innovative solutions for sustainable planning and building and contributing to the creation of climate-adapted, connected, and liveable neighbourhoods.