A look at Slum Dwellers International's work in support of SDG5: Achieve gender equality and empower all women and girls.
SDI is a network of community-based organisations of the urban poor in 32 countries and hundreds of cities and towns across Africa, Asia, and Latin America. The network has helped create a global voice of the urban poor, engaging international agencies, and operating on the international stage in order to support and advance local struggles. We examine how SDI's work, specifically the federations' use of data, has supported the empowerment of women in slum settlements.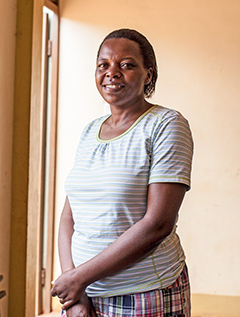 As a very active member of Cities Alliance, its methodologies of facilitating inclusion and participation of informal citizens through a gender lens are now an integral part of all projects being developed by Cities Alliance.
SDI's work on gender issues and SDG5
At the heart of SDI's methodologies and practices are the empowerment of slum dweller communities. This began with saving schemes and has since grown to include data collection, slum upgrading and advocacy, spanning local, national, and global levels.
SDI's foundational approach is the formation of women-led savings schemes. These savings schemes bring together women within a slum settlement to save and manage money daily and to put it towards their personal needs or the collective needs of the settlement.
Beyond the new financial power these savings schemes put in the hands of women, they are also instrumental in bringing together and empowering women in the community. Men and women in the neighbourhood see these women's collectives as assets rather than competition and encourage them as representations both within the neighbourhood and to the city.
SDI is contributing to the achievement of the SDGs through supporting the empowerment of women at a local level using community-driven slum data, and then helping to upscale impact through advocacy at different levels. - Sarah Nandudu
The practice of savings builds credibility through which women engage with governing institutions at different levels. Through the development of money management skills, women have been empowered and mobilised to take up further engagement with local government and beyond.
In Uganda, for example, savings schemes organized by the National Slum Dwellers Federation of Uganda (NSDFU) mobilised local women, eventually paving the way for political participation and representation of their local communities. They are now more willing to speak on public platforms, and able to advocate for much needed urban services.
"Without these savings schemes, it would not have been possible for women to speak up, learn skills, and form the social connections needed to mobilise," says Sarah Nandudu, national leader of the Uganda federation and Vice-Chair of the SDI Board. "It was because of this, these women have been able to take up leadership positions. They have been at the forefront. Whether it's meetings with the local water body or electricity body, women are now at the forefront of these."
At the heart of this approach is the belief that if the needs of the poorest women in slum settlements are met, the needs of wider urban inhabitants will also ultimately be met.
What role can local communities play in the scope of achieving SDG5 and SDG11?
SDI is pushing for stronger representation in political and economic decision-making for urban poor women in cities, and more sustainable urban settlements which are inclusive of the most vulnerable.
There are many levels at which the SDGs must be pursued. SDI federations are organised at the settlement, regional, and national levels. The SDI network has regional hubs in Southern Africa, West Africa, East Africa, East Asia and South Asia, and an emerging hub in Latin America. The SDI Secretariat, in partnership with grassroots community leaders, engages in high-level advocacy work in international fora such as Habitat III and World Urban Forums.
The SDI network advocates for gender-empowering practices to be institutionalised at each of these levels, starting within its institutional arrangement that then seeks such demands from the local national and international development interventions. This spans from national policies to city development strategies. In this way, the objective is to not have to consistently fight for a gender-sensitive inclusion of slum dwellers to be considered, but for it to become the norm.
In Uganda, for example, the fostering of a cooperative partnership with the local council by NSDFU has meant that many of SDI's methodologies are adopted in the design, implementation, and management of projects in the settlement.
Women are at the centre of these partnerships. "The partnerships we have with municipal authorities are created by women and men going there together to plan," says Janet Adu, a community leader from Ghana. 'By having the women there, too, we can talk about what the communities lack.'
The SDI network also facilitates peer-to-peer exchanges at different scales. These have been very effective in boosting advocacy for slum dwellers and promoting the dissemination of gender-inclusive practices.
How can community data support the achievement of the SDGs?
Data is integral to SDI's approach in slum dweller communities. There are two key types of data gathered by SDI communities – slum profiling data, and household enumeration data.
The foremost function of slum profiling data is to ensure that planning infrastructure includes informal settlements as priority areas for investments.  The data seeks to articulate issues of land ownership, the absence of basic services and a range of other details that the community documents about the nature of urban settlements through focus groups, discussions, and surveys. This data is available at settlement, sub-city, and city levels. Data at the household level is far more granular. It looks at household composition accurately disaggregated by gender, age, and employment.
The data serves several purposes. It builds information about the informal settlements that helps communities see themselves as part of a larger group of informal settlements in the city and not isolated and marginal groups and builds capacity to make representations about themselves. It provides an accurate representation of slum-dwelling communities and uses this as a basis for advocacy, as well as accurate assessments of where urban services are most needed.
Data allows communities to make a case for themselves and articulate needs, whereas, without this, communities are often invisible to planning authorities.
Women and youth have been central to data collection exercises and are key participants in the process. In Uganda, as with many other SDI affiliates, women and youth lead the collection of data about their local settlements. This is used as the basis for successful partnerships with the local council to design, implement and manage community projects that deliver much-needed services, such as sanitation and garbage collection.
Women are often most affected by issues in slum settlements, such as poor sanitation or access to water. Crucially, through leading the data collection process, local women have been empowered to advocate for their specific needs and priorities. They have strong ownership of the data.
There is still more work to be done, however. "We need to get more women engaged and involved," says Sarah Nandudu. "I would like to see platforms which are inclusive of all women from all kinds of backgrounds, and ensure their voice can be heard and that they can participate in the development of our communities." SDI is contributing to the achievement of the SDGs through supporting the empowerment of women at a local level using community-driven slum data, and then helping to upscale impact through advocacy at different levels. "Gender equality is the foundation. When we come together, we can create sustainable cities and settlements," says Janet Adu.
Most important, the SDI strategy demonstrates ways to ensure that the motto of SDGs: LEAVE NO ONE BEHIND can be achieved at scale
SDI has been part of the NUA-SDG Joint Work Programme of the Cities Alliance which focuses on the implementation of the Global Agendas relevant for cities.