In response to the pandemic in Bangladesh, Cities Alliance, with the support of the Dhaka Ahsania Mission and Oxfam International, distributed hygiene packages to 1,050 households, in Dhaka North, Dhaka South and Gazipur City Corporations.
The materials will benefit nearly 3,500 people, among the most vulnerable residents of informal settlements, including transgender, sex workers, and women-headed families.
With more than 87% of the population working in the informal economy, Bangladesh informal workers have been hit hardest by the Covid-19 crisis and the subsequent lockdowns. From the overstretched health care infrastructure to job losses, increased domestic violence and hunger, the most marginalized communities have been severely impacted. The crisis has also deepened pre-existing gender inequalities and taken a profound toll on urban poor women and girls.
"These families have no food reserves or access to adequate hygiene products; they rely on informal day-to-day employment and live hand to mouth. With the prolonged lockdowns in the greater Dhaka region their ability to cope has been stretched to the limits. We hope this donation will help them to stay afloat during these difficult times", said Anacláudia Rossbach, head of the Global Programme on Informality at Cities Alliance.
The hygiene kits included detergents, toiletries, hand sanitisers, face masks, and handwashing buckets. The response also involved extensive public health promotion through posters and coverage in local media.
As a disabled person, the hygiene package is very helpful for me, for us. We can fill the bucket with drinking water and keep ourselves clean with soap and clean our clothes with detergent powder. I can wear a mask when I go out. We have benefited a lot from these things.
Asma Begum, resident of Mohammadpur, Dhaka.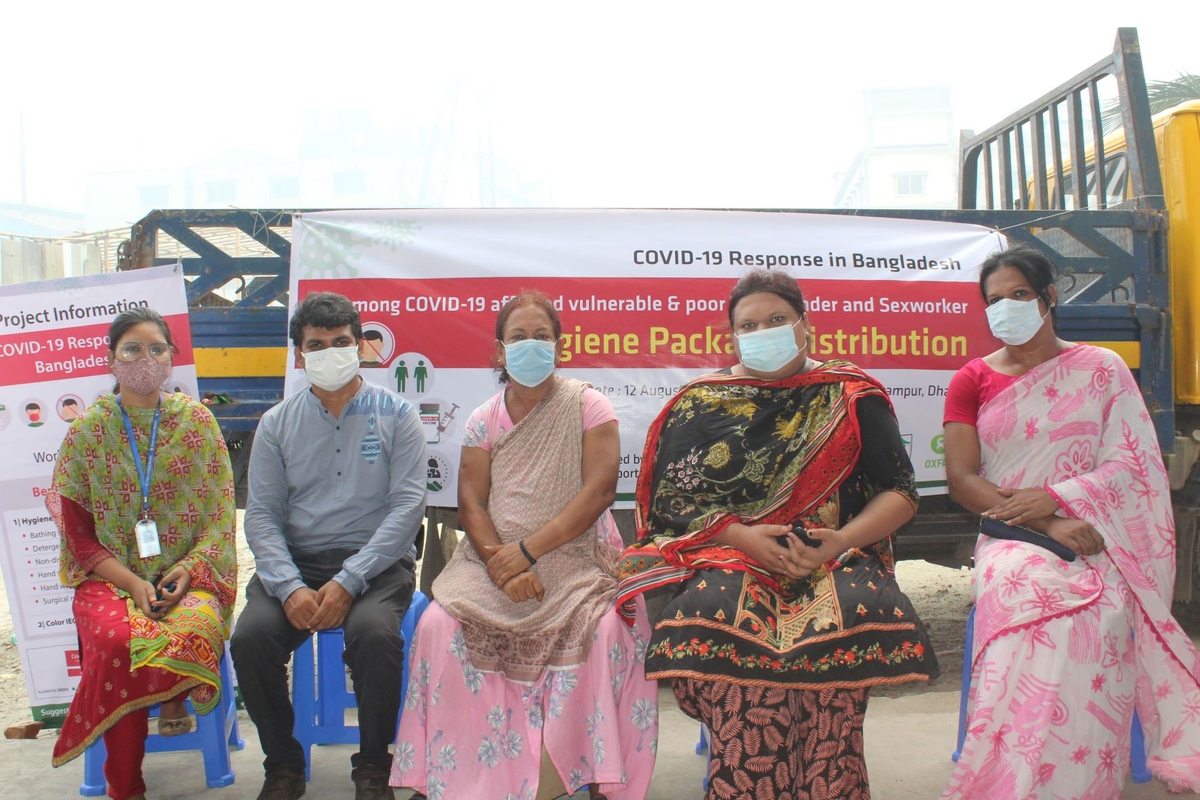 According to the World Health Organization (WHO), as of 1 October 2021, there have been 1,56 million confirmed cases of Covid-19 in Bangladesh with 27,500 deaths. Only 10.06% of the population have been fully vaccinated while 8.89% is partially vaccinated.
This donation takes place within the framework of the ongoing Cities Alliance's global response to the Covid-19 crisis, funded by the Swedish International Development Cooperation Agency (Sida). The project implementation team coordinated with the local authorities through the Department of Social Service, Sustho Jibon and Bachte Chai among other humanitarian actors.