By Giulia Maci, Cities and Women programme lead, Cities Alliance.
Women's war has its own colours, its own smells, its own lighting, and its own range of feelings. It's own words. There are no heroes and incredible feats, there are simply people who are busy doing inhumanely. 
These words are from Svetlana Alexievich, the Belarusian journalist who told the experiences of the soviet women who fought on the front lines and on the home front during World War II. Although women pay the highest price in conflicts and contribute substantially to war efforts by protecting and supporting families and communities, their voices often go unheard in the media, and in peacekeeping negotiations.
Everything we know about the war we know with a 'man's voice'. Women remain in the background, like silent victims. Armed conflict, together with the rhetoric of patriotism, traditionally excludes women and strengthens gender hierarchies and traditional norms more than any other situation.  
To amplify women's voices in the war in Ukraine, together with StreetNet International - a global alliance of organizations of street vendors and other informal traders, we organized a closed-door discussion with women activists, volunteers and civil society representatives who shared testimonies about their current life in Ukraine. This summary brings their voices into the open.
Women are playing a key role in the resistance movement in Ukraine. Some are fighting on the front line – they make up about 15 % of the army – helping with administration, dealing with the injured or providing equipment and supplies. Kateryna*, a volunteer from Mykolaiv said: 
We cannot leave our homes. This is our country. We are organizing the distribution of food, helmets and bullet proof vests. 
Other women have mobilized across the country to ensure the safety of their children and elderly people by taking them to underground shelters and by supporting people with disabilities and Internally Displaced People (IDPs). According to the United Nations, since the beginning of the Russian invasion in February 2022, there are more than 7.7 million people who are internally displaced. The host communities, mostly rural villages, lack the resources to respond to the emergency.  
We are trying to collect and share information about humanitarian support, to connect associations working on the ground, local authorities and IDPs. We need to ensure that both host communities and IDPs receive the help they need.
Maria, NGO representative from Kyiv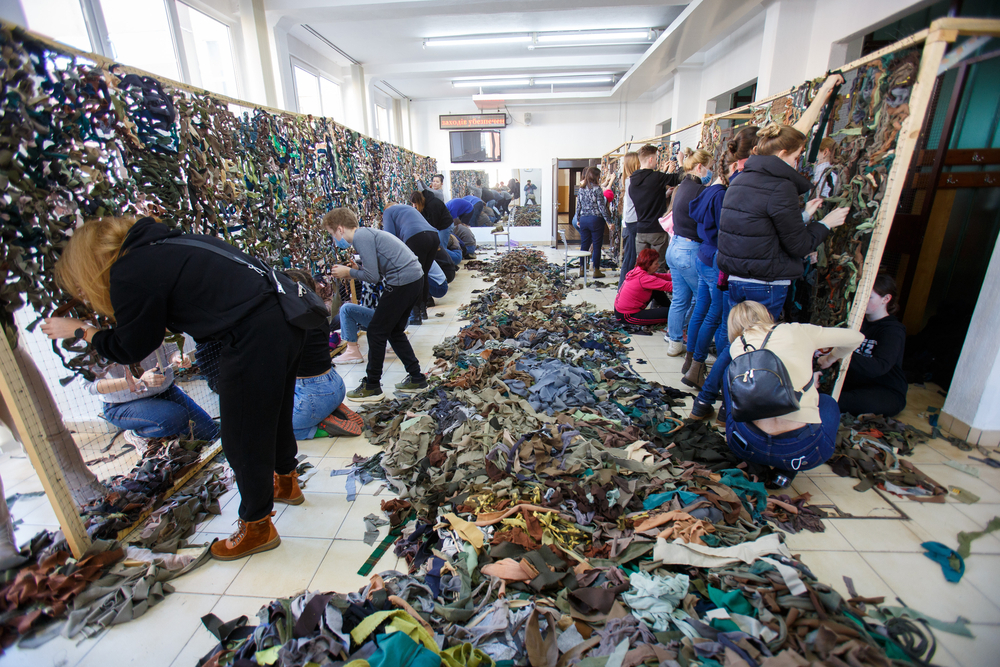 This mass women's mobilization is not new for Ukraine. Women have played a fundamental role in the country's independence and democratization process. According to the Council of European Municipalities and Regions CEMR, before the war, in Ukraine 40% of the elected council members were women and important progress has been made in the proportion of women mayors (from 5.7% to 23%). Women participated in the Orange Revolution and in the 2013–14 anti-government protests, widely known as the EuroMaidan. Since then, they have been engaged in all sectors of civic society, tackling issues like domestic violence, human trafficking, and gender inequality.
Despite this progress, important gender gaps existed in the country. The war is exacerbating those inequalities. For instance, the disruption of social services such as medical care and education has increased the care burden on women. The war impacted women's economic opportunities. Nina shared her experience as an entrepreneur:
We are alone, and we have to support our families. We already suffered during Covid and now half of the women entrepreneurs have lost their jobs. 60% of informal economy workers in Ukraine are women. They are in an extremely vulnerable situation right now.
Domestic violence is also increasing tremendously since the start of the Russian-Ukrainian war. "Domestic violence is no one's priority now. There are no services in place and women's shelters are now occupied by IDPs", explained Maria.
"Since the outbreak of the war, women and children are becoming increasingly victims of human trafficking. Newly orphaned children and widowed wives are being traded across Europe, sometimes even for their organs", she added.
Russian war is also a war on women, and on their future - also exemplified by the Russian government describing the invasion in sexual terms, quoting a Soviet-era punk group's lyrics: 'You sleep my beauty, you're going to have to put up with it anyway.
Throughout history, rape and sexual violence are often employed as tactics of war. Such tactics have been called 'gendercide' by scholars who study gender and war. The international community has called for the increasing reports of rape and sexual violence against Ukrainian women and children to be investigated. 
These atrocious experiences that women and young people are undergoing must be reported. But women are ashamed, they prefer not to speak. Psychological and moral support is fundamental. 
Juliana, a young volunteer
"There is this child, grandson of one of our volunteers who was lively and turbulent. Since the war began, he has been silent. Our children have grown up too quickly. In a few days. How are we going to rebuild our communities?", she asked.
The participants also describe the exodus of 5.3 million people who have fled the war and found refuge in neighbouring countries. 
"Trains and trams are packed with women and children while escaping from small country towns is difficult due to the poor quality of roads and transport. 60 % of refugees are women and girls", said Tamara who is helping Ukrainian refugees and hosting some families in her house.
I come from a small town in Moldova. The administration is struggling to respond to requests for accommodation, services and transport. Bureaucracy makes inclusion and temporary employment very difficult.
Tamara, chairperson of Traders Union in Moldova
These realities and vulnerabilities of women must be heard and reported. Their stories must break the silence and counter-propaganda, through the inclusion of representatives of feminist and women's groups in all steps of peacebuilding initiatives and upcoming negotiations, as concluded by Maria:
We, women have to be part of the negotiation process. We need to talk to Russian women, mothers. Maybe we could tell them what is happening, and find a common ground.

 
* The names of participants have been changed to protect their identity.
---
Disclaimer:  The views expressed in this publication are those of the author and do not necessarily reflect the corporate policies or viewpoints of Cities Alliance, its members, or UNOPS.