Urban development experts and practitioners from Multilateral Development Banks (MDBs) convened in Brussels for the Urban Development Roundtable 2023, co-hosted by the Swiss State Secretariat for Economic Affairs (SECO) and Cities Alliance. The event, part of an ongoing initiative led by SECO, brought together key stakeholders to address critical perspectives on responsible land administration and management for sustainable and inclusive urban infrastructure development.
Bridging theory and action
Professor Alexander D'Hooghe delivered a compelling keynote, stressing the need to bridge the gap between academic discussions and the practical implementation of urban plans that can respond to real-world scenarios. He underscored that successful urban development projects must be grounded in consensus and reflect the collective vision and needs of the communities involved.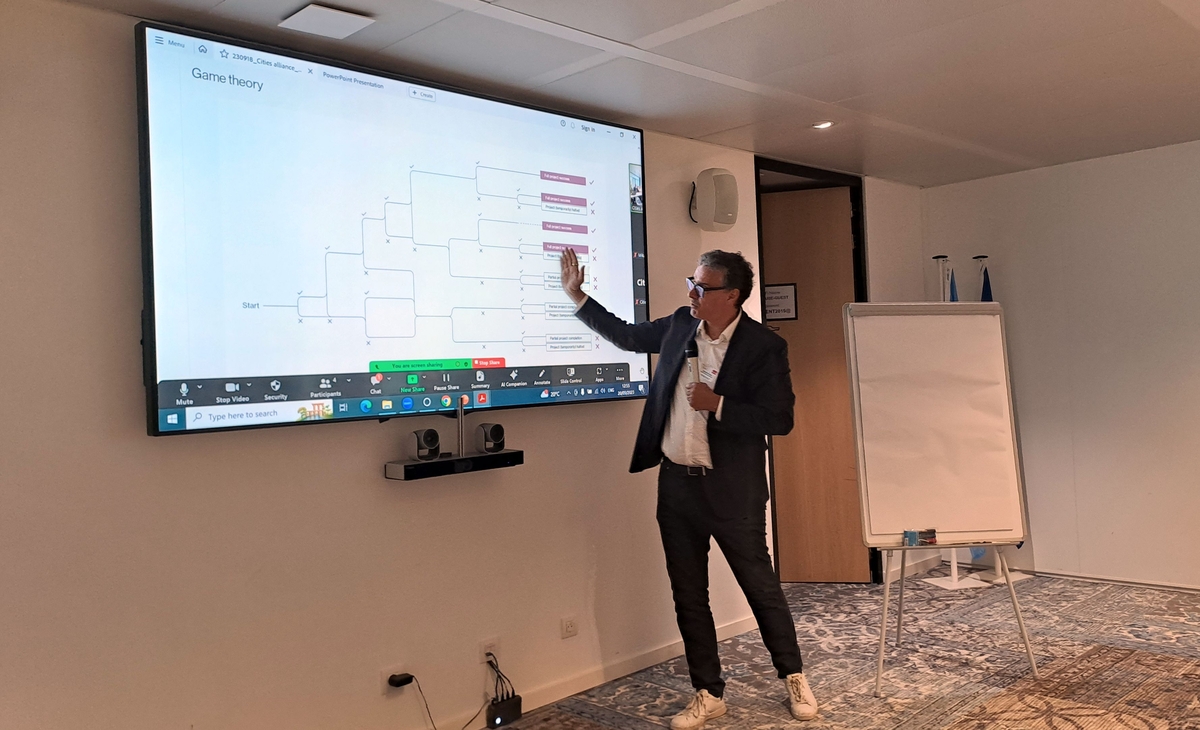 Planning alone isn't enough. It must be coupled with coalition building and co-creation, ensuring local stakeholders are prepared to own the plan because it ultimately reflects their vision from the beginning. 
Alexander D'Hooghe, Associate Professor of Architecture and Urbanism MIT, Founder and Chief Strategic Officer ORG Permanent Modernity
D'Hooghe's keynote was complemented by case studies from Lebanon, Antwerp, and Malawi, showcasing urbanisation challenges and successful coalition building, as well as the power of predictive modelling in data-scarce situations.
Forward Planning: Urban governance to manage, plan, and optimise land for the future
Throughout the first day, leading organisations shared their approaches to responsible urban development and how land interfaces with local authorities and city planning:
Dagmar Vogel and Barbara Buser from SECO presented the urban value chain approach to sustainable urban development, emphasizing key areas such as urban governance, mobility, resilience, and energy management. They highlighted Colombia's transition from analog to multipurpose cadastre as an example of evidence-based integrated planning enabled through collaboration between the government, society, and international development actors.
Mika-Petteri Törhönen and Augustin Maria of the World Bank discussed the imperative of future-oriented planning, focusing on challenges and opportunities related to land use and management within the context of urbanization and climate action. Indonesia served as a case study showcasing integrated spatial planning to address large-scale land use challenges.
Kris Moon from the Asian Development Bank (ADB) presented ADB's approach to modernizing land management and supporting inclusive and climate-friendly cities. Examples from projects in Indonesia and Bangladesh illustrated the use of digital technology and spatial data for informed urban planning.
Land related challenges are universal and the issues surrounding governance are at the heart of land use development in every region.
Kris Moon, Urban Development Specialist, ADB
Hiro Ito of the European Bank for Reconstruction and Development (EBRD) effective land management as a crucial element of sustainable urban development. EBRD's Green City Action Plans aim to enhance sustainability and address land management issues through stakeholder engagement and data analysis. EBRD is also actively involved in projects related to land value capture and climate adaptation.
Upasana Varma and Till Arne Bajohr from the International Finance Corporation (IFC) emphasized IFC's commitment to affordable housing through public-private partnerships, stressing the importance of flexibility in selecting the right model based on local conditions.
We're not just dealing with numbers and regulations; we're building bridges between public and private actors to make sure families have access to decent, affordable housing. It's about improving lives and communities.
Till Arne Bajohr, Operations Officer, IFC
Exploring Brussels' new EU Quarter Masterplan
Pierre Lemaire and Nicolas de Moy, from the public planning agency Perspective Brussels, presented the EU quarter's new masterplan, which aims to make the European Commission's real estate portfolio carbon neutral by 2030 through the sale of 21 buildings and conversion into a mix of office, housing, and public amenities.
De Moy highlighted that Brussels as the world's second most international city, with 184 nationalities residing in a compact 162 square kilometres, faces intricate challenges in regional planning. 'Perspective Brussels seeks to comprehend, inspire, and act for the future of this diverse region'.
The goal [of the Masterplan] is to create mixed-use neighbourhoods, where no more than 50% of the area is designated for office space to improve worker well-being.
Pierre Lemaire, Architect, Senior Project Manager, Perspective Brussels
Lemaire also underlined recent trends in teleworking and the impact on office vacancy rates in the EU district. During a site visit, the architect introduced the shared vision for the European Quarter, focusing on redeveloping housing, reinforcing institutional areas, enhancing sustainability, and diversifying land use.
Backward Planning: Informal settlements, land, and infrastructure investments
The second day delved into resolving existing infrastructure backlogs sustainably and inclusively. In her opening keynote Jane Weru, shared a powerful story about the transformation of the Mukuru settlement in Nairobi, stressing the importance of community-led initiatives, data-driven decision-making, and collaborative efforts in addressing the complex challenges of informal settlements.
The settlement is slowly transforming because of planning and because of the willingness, of the government to work with partners, and above all, the people of Mukuru.
Jane Weru, Executive Director of Akiba Mashinani Trust
Prominent participants also contributed their insights into responsible land management:
Salvatore Fundaro and Robert Lewis-Lettington from UN-Habitat advocated for a pluralistic land tenure approach and fit-for-purpose land administration. Their pro-poor approach considered the financial constraints of individuals in informal settlements while addressing gender and youth-specific needs in land tenure and property rights.
Pingyean Cheah from the Asian Infrastructure Investment Bank (AIIB) discussed the organisation's approach to addressing informal settlements and land management. AIIB is focused on promoting inclusive and climate-friendly cities through co-financing projects, technical assistance, and sustainable urban development practices.
Nora Ruth Libertun de Duren of the Inter-American Development Bank (IADB) presented research on informal settlement upgrading, highlighting the diverse outcomes of such projects. The importance of long-term evaluation and factors influencing sustainability were discussed.
Julian Baskin from Cities Alliance shared insights from the Kasokoso settlement in Kampala, Uganda, where efforts to upgrade slums were linked to climate change mitigation and environmental restoration. The role of community engagement and infrastructure improvements was emphasized.
Charting the path forward
The Urban Development Roundtable 2023 served as a platform for knowledge sharing, collaboration, and the exploration of solutions to pressing urban challenges. As cities continue to grow and evolve, these insights will play a crucial role in shaping their future.
Land intersects with every aspect of urban development and planning. It must draw from sound governance and management, focusing on efficient spatial planning for the future but also rectifying the legacy of past governance failures.
Julian Baskin, Principal Urban Advisor, Cities Alliance
The event demonstrated a global commitment to creating more resilient, equitable, and sustainable cities in the years to come.