Webinar Series: Social Urbanism - International Cases
Next session: ongoing experiences on slum upgrading in South Africa and Costa Rica.

Register for the event here. Texto em português abaixo.
Social urbanism is known as an urban intervention strategy inspired by the Colombian city of Medellin, where the territorial and social dimensions of urban policies were fundamental in transforming the city's poor neighbourhoods. Brazil also accounts for some successful cases. Based on these experiences, the business school Insper (Brazil) recently launched a postgraduate course with the support of the Urbam/ EAFIT research centre (Colombia).
As part of Cities Alliance ongoing efforts to support knowledge exchanges and create synergies among urban practitioners across the world, a cycle of webinars on Social Urbanism – International Cases: Latin America, Africa and Asia has been designed in partnership with Insper,  Arq.Futuro Cities Lab and Urbam-EAFIT. 
The next session on 22 July will focus on study cases from South Africa, in the Kosovo informal settlement, Western Cape, and on the integral urban projects of the Greater Metropolitan Area of San José, Costa Rica.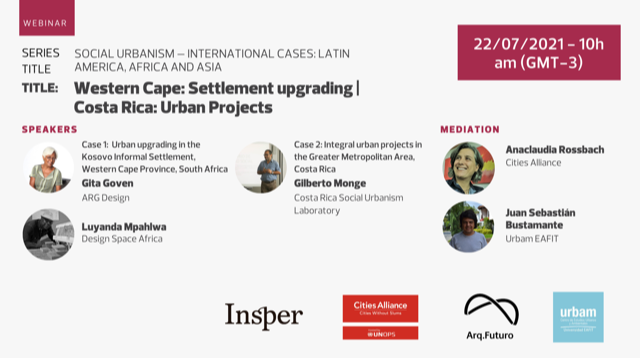 Panellists
Gita Goven, Partner Director, arG Design

, South Africa

Luyanda Mpahlwa, Director, Design Space Africa, South Africa
Phila Mayisela, Acting Head of Department of Human Settlements, Western Cape, South Africa
Gilberto Monge Pizarro, Laboratório de Urbanismo Social de Costa Rica
Anaclaudia Rossbach, Regional Manager LAC, Cities Alliance
Juan Sebastián Bustamante, Urbam EAFIT
The event will be held in Portuguese and English and will feature simultaneous translation.
The previous session, which took place on 15 July discussed the cases of slum upgrading and land tenure in Odisha, 
India
,
and urban regeneration linked to urban mobility infrastructure in San Miguelito, 
Panama
. The recording of the event is available 
here
.
---
Inscreva-se e participe aqui.
O ciclo de webinars Urbanismo Social – Casos internacionais: América Latina, África e Ásia é o resultado de uma parceria institucional entre Insper, Cities Alliance, Laboratório Arq.Futuro de Cidades e Urbam-EAFIT.
A próxima sessão de 22 de julho se concentrará em casos de estudo da África do Sul, no assentamento informal de Kosovo, no Cabo Ocidental, e nos projetos urbanos integrais da Grande Área Metropolitana de San José, Costa Rica.
A sessão anterior, realizada em 16 de julho, discutiu os casos de modernização dos assentamentos informais e posse de terras em Odisha, Índia, e a regeneração urbana ligada à infra-estrutura de mobilidade urbana, os teleféricos em San Miguelito, Panamá. Você pode ver a gravação aqui.
Palestrantes
Gita Goven, Diretora, arG Design, África do Sul
Luyanda Mpahlwa, Diretor, Design Space Africa, África do Sul
Phila Mayisela, Chefe Interina do Departamento de Assentamentos Humanos, Cabo Ocidental, África do Sul
Gilberto Monge Pizarro, Laboratório de Urbanismo Social de Costa Rica
Anaclaudia Rossbach, Gerente Regional LAC, Cities Alliance
Juan Sebastián Bustamante, Urbam EAFIT