Towards the 2022 Meeting of the Malaga Global Coalition for Municipal Finance
This event is organized by UCLG in collaboration with the FMDV and UNCDF.

A year of pandemic: What impact on local finances? What role for local governments in the recovery plans?
Online event on 14 June. Register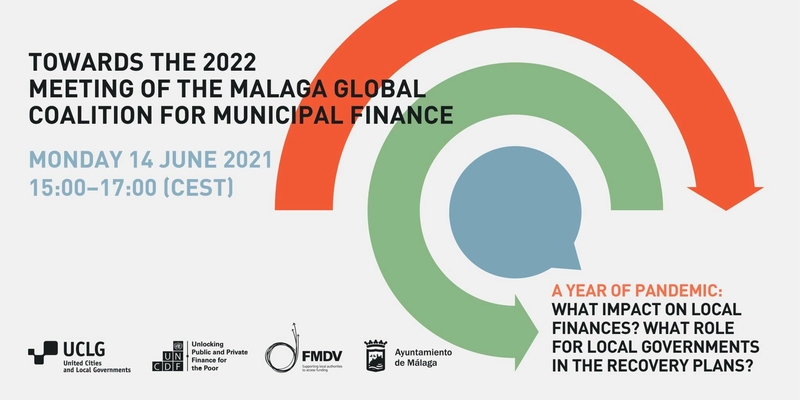 The urgency to involve cities and regions in financing strategies for the implementation of the Sustainable Development Goals (SDGs) and other global agendas, has escalated with the COVID-19 pandemic. This crisis has shed light on the critical role played by local and regional authorities in providing responses during the emergency and in future recovery. At the same time, it has shown the need to consolidate municipal finances to prepare for future complex emergencies, particularly climate change and social crises, while ensuring the sustainable provision of public services and investment in infrastructure.
What are the lessons learned from this exceptional situation? What decisions have been made and instruments put in place by local governments to address it? What are their positions to reshape the architecture of the recovery plans discussed at national and global levels?
Designed as a first step in preparation for a convening of the Malaga Coalition for Municipal Finance in 2022, the meeting aims to provide a space for local and regional governments and their associations and networks to exchange on the impacts of the Covid-19 crisis on local finances and to share their positions, proposals and expectations towards regional and national institutions in the definition and implementation of the recovery plans and fiscal stimulus packages in response to the pandemic.
The event will be composed of two roundtables, with opening remarks from Emilia Saiz, Secretary-General of UCLG, and Preeti Sinha, Executive Secretary of UNCDF.
First roundtable- One year into the outbreak: What are the financial challenges and priorities for local and regional authorities that need to be factored into national and global recovery packages? 
Moderator: Emilie Maehara, Deputy Executive Director of FMDV
Paul Simondon, Deputy Mayor of Paris in charge of finances
Anuela Ristani, Deputy Mayor of Tirana
Yvonne Aki-Saywerr, Mayor of Freetown
Aníbal Gaviria, President of Cities Alliance
Second roundtable- Insights from local government associations and networks: how best to engage with other tiers of government and development partners for LRGs to be considered as key implementors but also decision makers and partners of an inclusive recovery? 
Moderator: Mathilde Penard, Local Finance Officer, UCLG
Xolile George, CEO of the South African Local Government Association (SALGA)
Clarence E. Anthony, CEO and Executive Director of the National League of Cities (NLC)
Frédéric Vallier, Secretary-General of the Council of European Municipalities and Regions (CEMR)