Housing Laboratory (LAV) No. 03 India: Digital Cities - Community Data Matters

A joint webinar from the network #GlobalPlatform4CitiesofGlobalSouth
Housing Laboratory (LAV) India
Digital Cities – Community Data Matters 
#Platform4CitiesofGlobalSouth 
Webinar on 15 December 13:00 CET
Please register here.
Today, cities are more interconnected than ever. Information and Communication technology (ICT) transforms all areas of life and allows cities to share ideas, information, and knowledge in a truly boundless way.  Even though the quick spread of the pandemic exposes the vulnerabilities of a globalised and interconnected world, the knowledge exchange between cities using ICT offers opportunities for efficient Covid-19 responses.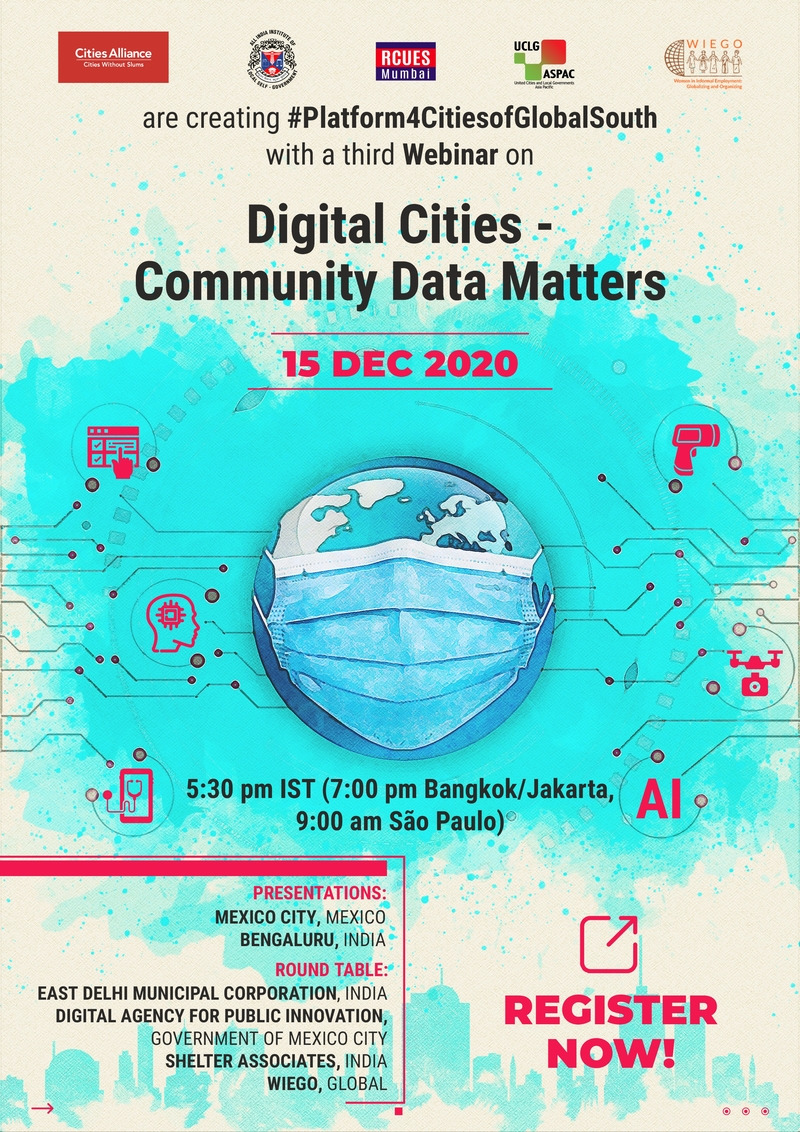 This joint webinar will explore the role of data and ICT systems for efficient responses on city level that leave no one behind through best practices from Mexico and India. The following questions will be addressed:
To what extent have data and ICT systems supported measures against Covid-19? 
What challenges do informal settlers and workers face against the background of digital gaps? 
To what extent has ICT transformed decision-making in the context of a global pandemic?  
What opportunities do ICT systems offer for ensuring city governance is inclusive, resilient, and sustainable?
We will discuss how data can enhance partnerships, inclusion and empowerement on local level with the following speakers:
Ali González García, Director of Open Government at the Digital Agency for Public Innovation (Government of Mexico City) 
Pratima Joshi, Executive Director of Shelter Associates (Maharashtra, India)  
Pradeep Khandelwal, Chief Engineer East Delhi Municipal Corporation (EDMC)  
Carmen Roca, Lima Focal City Coordinator, WIEGO
All India Institute of Local Self Government, Cities Alliance, WIEGO, RCUES Mumbai and UCLG ASPAC have collaborated to create an interactive platform for cities in the Global South for knowledge exchange on city management issues. The two preceding Labs focussed on innovative solutions curated, and partnerships forged to cocreate sustainable solutions in the cities' COVID-19 response, respectively. Practitioners, academics, and the interested public are invited to join this free webinar and round table debate.