JWP on Cities in the Global Agendas Outputs
                                          JWP Home   |   JWP Outputs   |   JWP Events   |   Resources   |   Phase I 
Publications 
Local and Regional Governments in the Follow-Up and Review of Global Sustainability Agendas
The JWP commissioned this report to develop recommendations for strengthening the synergistic follow-up and review of the urban dimension of the global agendas, and to explore opportunities for a stronger involvement of local and regional governments and their partners in the process.
Download a four-page summary of Local and Regional Governments in the Follow-Up and Review of Global Sustainability Agendas      
The Urban Dimension of Six Global Agreements: A Critical Reflection
This brief, jointly developed with IIED, provides a critical assessment of how urban development and actors are affected and/or involved in each of the global agreements and outlines how they relate to each other.      
The Role of Cities in Each Global Agenda 
Developed by IIED, these one-page reviews provide a critical analysis of the role of local and regional governments in each global agreement.
   -   2030 Agenda for Sustainable Development
   -   Sendai Framework for Disaster Risk Reduction 2015-2030
   -   Addis Ababa Action Agenda on Financing for Development
Integrated Follow-up and Review Approaches to Urban Sustainability
This brief presents five selected best practices that take an integrated approach to the Follow-up and Review (FuR) process for the global sustainability agendas at the local level. 
Implementing the commitment to "leaving no one behind" in cities: What it means in practice
Cities Alliance, ODI and GIZ developed this background paper to explore what is new about the principle of leaving no one behind, and how local and national governments can act in a way that enables national progress to achieve the SDGs.
Advocacy and policy 
Best Practices on Local Follow-up and Review
To spotlight some of the innovative ways local actors are accelerating the implementation of the global agendas, the JWP issued in May 2018 a call for best practices that take an integrated approach to the Follow-up and Review process.
Five best practices were selected, and we invited the top three (Mexico City, Italy and Colombia) to showcase their projects in two Cities Alliance events at the 2018 UN High Level Political Forum on Sustainable Development.
 
   1. Monitoreo CDMX (Mexico) is an online tool collecting data on a set of indicators that allows Mexico City's local administration to track progress on the 2030 Agenda and verify compliance with the SDGs. Watch Oliver Castañeda, Coordinador General de Modernización Administrativa, México talk about the tool.
   2. #weResilient (Italy) brought together 100 municipalities to develop a regional strategy for integrating disaster-risk reduction and climate change resilient policies in urban planning. Watch Alessandro Attolico, Executive Director for Territorial Planning and Development Province of Potenza, discuss the project.
   3. Red de Ciudades Cómo Vamos (Colombia) is a civil society-led initiative to create sub-national sets of indicators and to develop a public online data tool for tracking progress on the SDGs in 19 Colombian urban agglomerations. Watch Luis H. Saenz, national coordinator of the Cómo Vamos Cities Network, discuss the project.
   4. The City Footprint Project (SASA-Servicios Ambientales S.A.) is an initiative supporting local governments in Latin America to implement climate mitigation and adaptation strategies and to monitor progress on the global agendas.
   5. Marunda Urban Resilience in Action (Cordaid, Indonesia) supports slum dwellers in mapping and analysing resilience vulnerabilities of their communities and developing action plans through a multi-stakeholder approach.
National Urban Policies Programme 
Cities Alliance is a member of the National Urban Policy (NUP) Programme, a tripartite initiative with UN-Habitat and the OCED, launched at the Habitat III Conference in 2016. The programme aims to support the development and implementation of NUPs globally as an essential component in building an enabling governance framework.

It will serve as a global platform and repository to share experience and provide tailored policy guidance and evidence-based analysis. The programme has already demonstrated some initial achievements, including the Second International Conference on NUP (May 2017, Paris) and the Global State of NUP report (February 2018 at the Ninth World Urban Forum).

The JWP awarded grants to the OECD and UN-Habitat to support the further development of the programme.

 
Know Your City: CoLab for Change video case studies
The CoLab for Change video case studies showcase the JWP's key message of inclusive partnerships. They also highlight the need for local government to implement the successful tools developed by community organisations and civil society that generate inclusive urban policies and development.
The videos were launched at Habitat III in October 2016.
Cities Built Together Film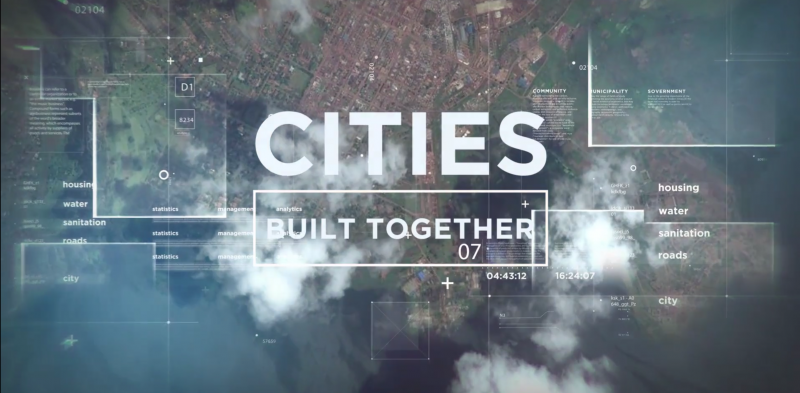 Through Shack/Slum Dwellers International (SDI), the JWP produced Cities Built Together, a self-contained film in broadcast quality that integrates the six CoLab for Change video case studies.
Length: 42 minutes