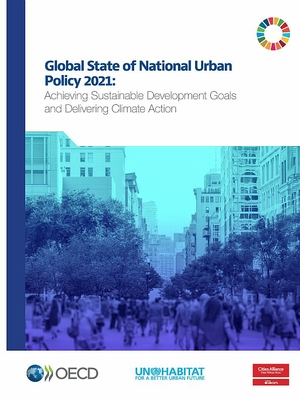 The OECD, UN-Habitat and Cities Alliance are delighted to introduce the Global State of National Urban Policy 2021: Achieving the Sustainable Development Goals and Delivering Climate Action, the second edition of the joint report developed as part of the National Urban Policy Programme (NUPP), launched in 2016 at the Habitat III Conference in Quito, Ecuador, to share experiences in NUP and support countries through the expertise of the three organisations and partners.
National Urban Policy (NUP) is an instrument that facilitates achieving sustainable urban development as a shared responsibility across countries, regions, and cities.
In the wake of the COVID-19 crisis, the scale and urgency of urban challenges have become evident and have given prominence to NUPs.
The pandemic has  also highlighted an opportunity and the potential for NUPs to shape more resilient, green, and inclusive cities as part of countries' recovery packages.
Building on the first edition launched in 2018, this report reviews the NUPs of 162 countries across the world. The overarching objective of the report is to assist national governments in advancing their NUP processes, especially in creating a stronger link between NUPs and urban-related global agendas, such as Agenda 2030 for Sustainable Development and the New Urban Agenda, and in mainstreaming climate action into NUPs.
 

The report serves as a critical source of information and analysis for policymakers and urban professionals, as it establishes the foundation for understanding how, and in what forms, NUPs have been developed, implemented, and monitored globally. 
The report was launched during a high-level event on 25 June 2021. The recording of the session is available here.