Sharing Experiences in Sustainable Urban Policy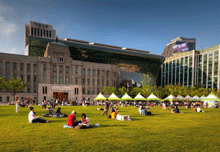 As cities around the world cope with addressing urban challenges, they look to the experiences of other cities for ideas and best practices. Seoul, South Korea, is an excellent example of an urban area that has transformed itself from an unserviced city to a smart one over four short decades.

Seoul is one of the few cities globally that has successfully accommodated the housing and service needs of its growing population, while at the same time creating economic opportunities for citizens. It has also made great strides in improving commuting for residents – a key part of quality of life.

Here, Cities Alliance, CityNet and Seoul Metropolitan Government share some of the municipality's best practices in a knowledge series titled "Solutions from Seoul."

 
Editions of Solutions from Seoul

TOPIS: The Control Tower for Seoul's Intelligent Transportation System
 

January 2015

The Seoul Metropolitan Government's Transport Operation and Information Service (TOPIS) is the "control tower" for the city's transportation system. It gathers and processes real-time road traffic and subway train information to enable the city to efficiently manage the interval between buses, relieve congestion and take timely action in case of an accident.

 
 
 
"Owl Bus" Based on Big-Data Technology
 

December 2014

The first of its kind in Korea, Seoul's "Owl Bus" is an innovative late-night bus service that has made travel cheaper and safer for city residents.The Seoul Metropolitan Government (SMG) worked together with a local telecommunications firm, KT, to identify areas of the city that saw the most call volume during the hours from 1am to 5am, and developed the routes accordingly. Residents were involved in the entire process of conceptualising and launching new service.