Digital Mapping for Climate Resilience in Bangladesh

A Bangladesh women's rights organisation, Badabon Sangho, is helping communities in the flood-prone Kuakata and Mongla port municipalities build climate awareness and resilience, while navigating additional challenges created by the global COVID-19 pandemic.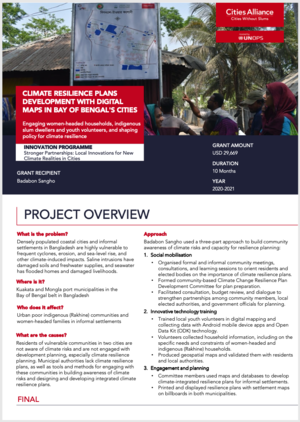 The impacts of climate change are already affecting the densely populated cities and informal settlements around the Bay of Bengal. In Bangladesh, frequent cyclones and rising sea levels have flooded homes and communities, while saltwater intrusions have damaged soils and drinking water supplies. 
Despite these impacts, vulnerable residents of informal settlements in Kuakata and Mongla, especially members of women-headed households and indigenous (Rakhine) families, lacked awareness of growing climate-related risks and were not involved with community planning for climate resilience.  
Badabon Sangho, has contributed to addressing these issues through its project Climate Resilience Plans Development with Digital Maps in Bay of Bengal's Cities. The project has implemented community awareness and engagement sessions, training of youth for data collection and mapping initiatives. It also served as a pilot and basis for further initiatives implemented by Badabon Sangho. The youth trained, for instance, will continue data collection and will contribute to the new awareness sessions, while the organization will pursue the engagement with government bodies started during the project. 
Overall, the project has improved city governance through climate resilience planning, as city authorities are more aware of the needs and constraints of informal settlements. At the same time, community residents have become aware of their rights, as well as of the roles of city authorities. In the future, the project is expected to influence policymakers in the process of annual budgeting and the implementation of resilience measures for such vulnerable communities. 
This 4-page final report provides an overview of the project, its achievements, key lessons learned, and future steps.