Municipal Development Fora and Community Upgrading Funds
Best practices to enhance social and economic transformation in secondary cities.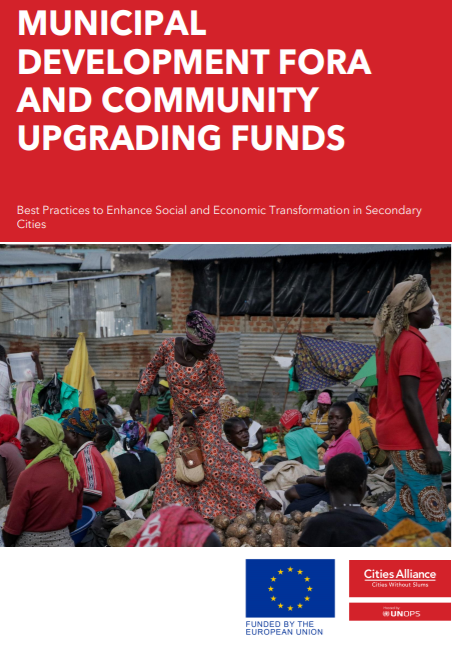 Cities Alliance has promoted the role of multi-stakeholder fora as platforms for participation and dialogue among urban citizens, including host communities and displaced populations, to exchange knowledge and inform local policies, plans, and budgets. These fora are strong mechanisms for promoting social cohesion and improving living conditions in the city. 
Another such mechanism is the Community Upgrading Fund (CUF), a facility that supports small community infrastructure improvements in slums and boosts progressive transformation in urban communities and likewise improves living conditions. 
Municipal Development Fora And Community Upgrading Funds presents the role of the Municipal Development Forum (MDF) and the CUF in enhancing partnerships and social cohesion in secondary cities, with case-studies from Uganda and experiences from Liberia. Both mechanisms bring government and residents together to form a development partnership. By working together, with government and communities each providing specific services, the process of formalizing the city begins. These partnerships build or rebuild the necessary relationship structure to lay the foundations for establishing a municipal identity striving for common projects. 
This paper does not advocate a "cookie-cutter" approach to either mechanism. It highlights core principles that are universally relevant, with much scope to develop a solution specific to the needs of different contexts.