The Women and Sustainable Cities programme (Femmes et Villes Durables in French) aims to strengthen women's leadership in the decision-making and management of scarce urban water resources in the MENA region. Launched in May 2023, the 2.5-year pilot will be implemented in collaboration with local governments and feminist organizations in Figuig (Morocco), Kairouan (Tunisia), and Sebkha (Mauritania).
By enhancing the capacities of local authorities and civil society, the programme promotes gender-responsive design and implementation of urban water management policies and projects. Collaborating with women and local organisations, the programme implements pilot projects in urban areas to improve women's access to water and enhance sustainable water management.
The programme is funded by the French Ministry for Europe and Foreign Affairs (MEAE), under its Solidarity Fund for Innovative Projects (FSPI). It has also been designated as a Support Fund for Feminist Organizations project by the Ministry and the Agence Française de Développement, enabling feminist civil society organisations to advance their vision of gender equality.
Climate justice and water management require women leadership because representation matters. If you have more women in leading positions, they can take more gender‑sensitive decisions.
Deyala Tarawneh, University of Jordan
The programme, spanning from 2023 to 2025, will be implemented in Figuig (Morocco), Kairouan (Tunisia), and Sebkha (Mauritania), focusing on three key components:
Enhance the governance capacities of local authorities for gender-sensitive and sustainable water management: Engage in a participatory approach to collect data on women's and girls' vulnerabilities, challenges, and opportunities related to water access, management, and climate adaptation. This data informs policies and develops a deeper understanding of their current living conditions, empowering local authorities to respond inclusively and sustainably through capacity building. The participatory data collection process is based on Her4Water, a tool developed by Cities Alliance to understand women's participation, engagement and vulnerabilities with respect to water scarcity and other water-related climate risks.
Support women's empowerment in sustainable water management through capacity building and interventions in public spaces: Facilitate active involvement of women and girls in the programme, enabling them to co-design solutions for identified challenges and implement pilot projects in their cities. Through comprehensive training and capacity-building initiatives, they enhance their knowledge and skills in inclusive urban water management.
Foster exchange and learning for women-led sustainable water management in targeted cities and countries: Organize a series of exchange events to facilitate knowledge sharing among participating local authorities, civil society organizations, and national/international stakeholders. By disseminating project practices and key findings, the program scales up its impact and contributes to global efforts for creating more inclusive and resilient cities.
The key objectives of the programme include: 
Facilitating the participatory collection of sex-disaggregated data and gender-sensitive indicators on water governance.
Promoting women's leadership in water governance and management within cities.
Developing and strengthening the capacities of local and national authorities to design and implement gender-sensitive urban water infrastructures and services.
Supporting the economic security of women by enhancing their access to water for household use and food production, thereby reducing their workload.
Stimulating and supporting inclusive multi-level urban governance for water management.
Participatory stakeholder engagement workshop in Sebkha on 19th October 2023
On October 19, representatives of the municipality of Sebkha, local women-led civil society organisations, regional authorities, and water authorities and institutes discussed the challenges of inclusive water access and climate adaptation measures in Sebkha. Participant's engages in focus groups on various themes, including the impact of climate change on women's access to water, challenges and opportunities of gender-sensitive and inclusive water governance, and the sensibilisation for more sustainable water use in Sebkha.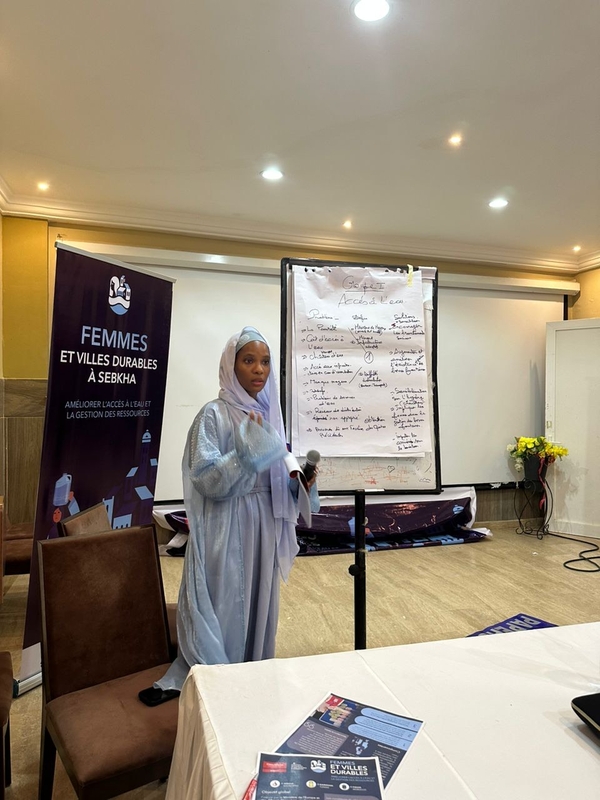 ---
Key Stakeholder Workshop in Kairouan on 19th September 2023
Following the successful project launch, key representatives of the municipality, the governorate, local civil society, water authorities, and research institutions came together in Kairouan on September 19 to discuss challenges and opportunities in governing local water scarcity. Discussed topics were among others, the role of women in current municipal and regional sustainable water governance, the value that traditional water conservation techniques can play in adapting to climate change, as well as the importance of accessible water facilities and green public space for the Kairouan's citizen, and most importantly women and their families. Read a detailed summary here.