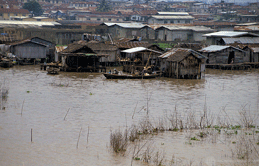 The Cities Alliance has approved a proposal to establish a joint work programme to help cities address challenges related to climate change.
The programme will be a partnership between the Cities Alliance, the World Bank, UN-HABITAT and the United Nations Environment Programme (UNEP).
Cities, particularly in developing countries, are especially vulnerable to climate change due to the large concentration of populations and their role as national economic hubs.In addition, many urban areas are located on the coast, making them susceptible to rising sea levels. Within cities, the urban poor are among the most vulnerable.
On the other hand, the concentration of resources in urban areas means cities can be key players in adapting to climate change and mitigating its impact.
Within this framework, the proposed joint work programme with the World Bank, UN-HABITAT and UNEP aims to facilitate a coordinated, focused effort targeting cities and climate change. The project seeks to capture current knowledge on the issue and help local and national decision-makers incorporate climate change adaptation and mitigation into their urban planning.
The proposal, which was approved May 6, is for an initial 18-month phase, which will pave the way for a comprehensive, long-term joint work programme.
A number of deliverables will be produced during this initial phase, including:
An online catalogue to facilitate access to knowledge on cities and climate change;
Tools for incorporating climate change into city development strategies (CDS);
A city greenhouse gas inventory and vulnerability assessment to be applied in cities with populations of one million and above;
A handbook for mayors on climate change adaptation and mitigation in cities; and
A replication and scaling-up strategy for Phase Two of the work programme.
The Cities Alliance has allocated a $500,000 grant for the project. The World Bank, UN-HABITAT and UNEP are also co-funding the programme.