Nana Ammons, owner of a small solid waste collection business, tells how the Improved Primary Solid Waste Collection in Poor Communities of Monrovia (IMPAC) programme has changed her life and her community.
[14 July 2014] -- "This program has changed my life," says Nana Ammons, the dynamic and vocal owner of a small solid waste collection business in Monrovia's Lakpeze neighbourhood.
Nana is talking about the Improved Primary Solid Waste Collection in Poor Communities of Monrovia (IMPAC) programme, which is supported by the Bill & Melinda Gates Foundation. IMPAC helped Nana establish her business.
"When I started living here in Lakpeze Community, one of Monrovia's many poor districts, there were no waste disposal sites. Community members were just dumping their garbage right into the swamp nearby. So I started this firm with my friend Kendra in 2011 to collect trash, and got a contract with the Monrovia City Corporation (MCC)," Nana said.
She and Kendra started by going door to door in Lakpeze, building public awareness and highlighting the health risks of having so much garbage piling up in swamps and in the streets. They charge a small weekly fee for collection, and with the support of the IMPAC team, the business grew quickly, turning into a successful model that has empowered public private partnerships and helped the two women change their community.
Nana recollects that prior to Liberia's devastating civil wars, waste was also collected door to door. During and after the eleven years of intense conflicts in a fifteen year period, however, the city has since struggled to cope to provide adequate waste infrastructure and collection services due to the large influx of migrants to the city seeking refuge. 
"There were garbage heaps everywhere and lots of flies and mosquitoes because of the trash and overgrown water weeds. Children were sick all the time with cholera and malaria," Nana told representatives of the Development Innovations Group (DIG) and the Cities Alliance during a recent joint mission to Monrovia. The Cities Alliance is providing technical advisory services and grant portfolio management oversight for the project.
She said that the IMPAC programme has improved the situation considerably. "There are no more backlogs of decomposed waste in people's back yards. We created new transfer stations and a private contractor takes the waste away to the landfill." 
Nana also shared how empowered she felt by being a business owner and contributing to her community. 
"I have the potential to positively affect my community. I didn't know I had that in me. I can empower other people who have no income by hiring them to work for my firm," she said. "You can make money from waste and keep communities clean. I want to change from a community based enterprise (CBE) to a small and medium enterprise (SME). I want my firm to grow from being a baby to a full-grown adult."
''We can do better''
Standing proudly in front of a roomful of small business owners and local government authorities at the city hall, Nana announces that the city can do even better. 
"This programme is new in our country," says Nana, who has ideas on what it would take to reap more benefits from the IMPAC programme. 
"It is people's obligation to pay for solid waste collection services. But some people just cannot pay. I used to have 900 clients. Now I have 450. The decline is because of more community participation in the clean areas, and for the problematic spots it is the lack of ordinances  to stop dumping.
Enforcement is key. If the Monrovia City Corporation could enact a law stating that all people should subscribe to a waste collection service, we could solve the [waste collection] problem once and for all." 
At a minimum, the MCC needs serious logistical support, she notes.  "It doesn't have any motorised equipment to collect the waste. What we need is to strengthen the MCC. But when we call the MCC, they do listen and help. I can testify they act in an accountable manner."
Today, many Lakpeze residents are very grateful that their waste is being removed and that 12 people in the community are employed by Nana's business. 
"The community looks so much better than before we started working with the MCC on the IMPAC project," remarks Nana. "But we can do even better, and we will ."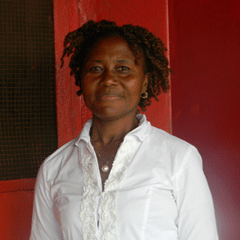 Nana Ammons. Photo: DIG  
"I have the potential to positively affect my community. I didn't know I had that in me." --Nana Ammons, owner of a small waste collection business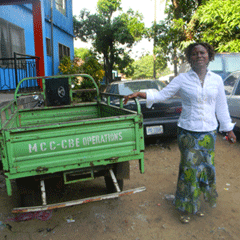 A proud Nana shows one of the motorised waste collection vehicles, introduced under the IMPAC scheme. Nana can afford the running, maintenance, and replacement costs from the small fees she receives from beneficiaries. Photo: DIG