Cities seeking innovative approaches for improving governance, service delivery, and mobilising resources have an excellent new resource: a new Compendium of Global Good Practices, produced by India's NIUA. They cover global and Indian case studies, and were designed with replication in mind.
[26 February 2015] -- Cities seeking innovative approaches for improving governance, service delivery, and mobilising resources have an excellent new resource: a new Compendium of Global Good Practices.
The series of ten guides were produced by India's National Institute of Urban Affairs (NIUA) in its capacity as national coordinator for the Peer Experience and Reflective Learning (PEARL) knowledge exchange network, which the Cities Alliance has supported since 2009.
The publications features case studies in key urban sectors: Water and Sanitation, Solid Waste Management, Urban Transport, Cultural Heritage, and Urban Reforms. Five of the Guides examine global best practices, while five highlight initiatives undertaken in Indian cities.
While the outputs themselves are noteworthy, of particular interest is the process that was used to develop them.
"The ten publications, with their clear presentation, easy-to-read format and applicable content, are by themselves very useful tools. However, the process that was used in their development is also extremely important and interesting for other cities that want to build an active learning network," noted Ajay Suri, Regional Adviser for South Asia with the Cities Alliance, who also provided inputs during the development of the publications.
A New Approach to Selecting Good Practices
Established in 2007 as a knowledge exchange platform for cities participating in India's JNNURM urban renewal initiative, PEARL has generated many good practices and outputs that are featured on its website. However, a recent assessment identified some weaknesses with the way projects were being selected as good practices.
Typically, cities were invited to nominate their projects, and then supplied key information about the activity. As a result, there were no peer reviews of the projects, and the information provided by cities was too incomplete and sketchy to benefit other cities interested in replication.
A new approach was used for the Compendium of Good Practices publications. The PEARL team selected five themes for documentation based on a Knowledge Needs Assessment study that was piloted in 5 cities. The team then established a peer review group for each thematic area to select the best practices from among a long list, and contracted specialised institutions to visit the cities and document key aspects of the projects.
This process ensured a consistent presentation and made the information much more relevant for other cities. It also highlighted an important point: while best practices are generally identified on the basis of outcomes, knowledge for replication is most useful when it reveals a nuts-and-bolts analysis of the processes to identify success factors.
About the Compendium of Global Practises
 
Five of the publications have a global focus, while five focus on case studies from Indian cities.
Global Focus:
  --  ICT in Urban Services looks at how governments across the world are using information technology as a tool for solving urban problems and creating an efficient governance mechanism. Case studies include Seoul, Callão (Peru), Beijing, London, San Francisco, Sub-Saharan Africa, Bahrain, Germany, and Colombia.
  --  Urban Sanitation examines challenges cities face in the sanitation sector and initiatives taken to improve services. Case studies fall under five themes: policy reform; wastewater treatment, reclamation and reuse; generating value from waste; partnerships; and strategies. Examples include Port Louis (Mauritius), Denmark, Naivasha (Kenya), eThekwini (South Africa), Denpasar (Indonesia), and Kampala (Uganda).
  --  Urban Solid Waste Management studies initiatives in cities across the world to provide a directory of relevant solutions for reducing waste generated, recycling/recovery of waste, integrating modern technology, and creating waste management systems that are ecologically sound and socially just. Examples include Manila, Belo Horizonte (Brazil), Zabaleen (Egypt), Dhaka, and New York City.
  --  Urban Mobility describes how cities have implemented solutions to improve urban planning, traffic demand management, public transport development, non-motorised transport development, streetscape design, and road planning, among others. Case studies include Singapore, Bogota, China, London, Seoul, Buenos Aires, and Lagos.
  --  Urban Water Supply documents initiatives to undertake water sector reforms to improve performance and service delivery, especially for the poor. Cities featured include Phnom Penh (Cambodia), Dakar (Senegal), Cochabamba (Bolivia), Dublin, Tokyo and São Paulo.
Good Practices from Indian Cities
  --  Urban Transportation in Indian Cities provides 13 examples of initiatives to improve service delivery of urban transport. For each, the study features a description of the project, success factors, budgetary implications, performance, impact, challenge and lessons learned.
  --  Urban Water Supply and Sanitation in Indian Cities showcases 10 examples of good practices across various sub-themes in the water and sanitation sector, including governance and institutional strengthening; information management; environmental sustainability; community participation; and financial sustainability.
  --  Urban Solid Waste Management in Indian Cities highlights 11 leading initiatives from across India and features key aspects of the cities' waste management programmes, including operational models, partnerships, and innovative outreach and awareness campaigns to engage communities and the private sector.
  --  Urban Heritage in Indian Cities documents successful urban heritage projects, highlighting the multifaceted nature of urban conservation and the specific challenges that need to be addressed while preserving the country's heritage.
  --  Urban Reforms in Indian Cities is forthcoming.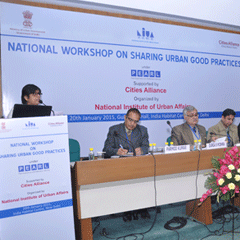 The Compendium of Good Practices was launched in January at a workshop co-sponsored by the Cities Alliance. From left: Dr. Debjani Ghosh, coordinator, PEARL; Mr. Pramod Kumar, Director, Ministry of Urban Developmen; and Mr. Durga S. Mishra, Additional Secretary, Ministry of Urban Development. Photo: NIUA
"Good practices are meant to be replicated. In order to promote acceptance and adoption in new locations, the documentation of such practices must establish the collaborative spirit, rigour and high quality that inspires replication and energises success."--Prof. Jagan Shah, NIUA
Ahmedabad, India. Photo: NIUA
Related Items
Supporting Knowledge Exchange in India's Cities Through the PEARL Network