In Greater Monrovia, Waste Management Is Supporting Livelihoods
A new European Union grant will provide training in financial management and business planning to help budding entrepreneurs establish and grow businesses in waste collection in Liberia.
Gertrude Anderson is General Manager for the Organisation for Clean Environment and Neighbourhood Services (OCEANS), a Community-Based Enterprise (CBE) that collects household waste in Greater Monrovia, Liberia. The income generated from waste collection is used to fund the organisation's operations, and by running the business, Gertrude has been able to pay for an education for herself and her four children.
"Although there is not a huge profit associated with waste collection, there are other benefits," she says. "I have been able to assist my husband educate our four children and obtain a college education in Management and Accounting at the United Methodist University in Monrovia."
With only 33 employees, OCEANS serves a clientele of over 2,000 households in the Mamba Point, Coconut Plantation, Benson Street, Paynesville and Brewerville communities.  It started out as a neighbourhood initiative in 2007, and Gertrude has sustained the organisation for the past 13 years with training and funding from donors despite challenges.
"As a small business organisation, there is a serious challenge in collecting waste door–to–door because there are no city ordinances or policies to compel households to pay for waste collection, even after the services are provided. Therefore, sometimes we run the risks of not being paid, a big loss for a very small enterprise," she explains.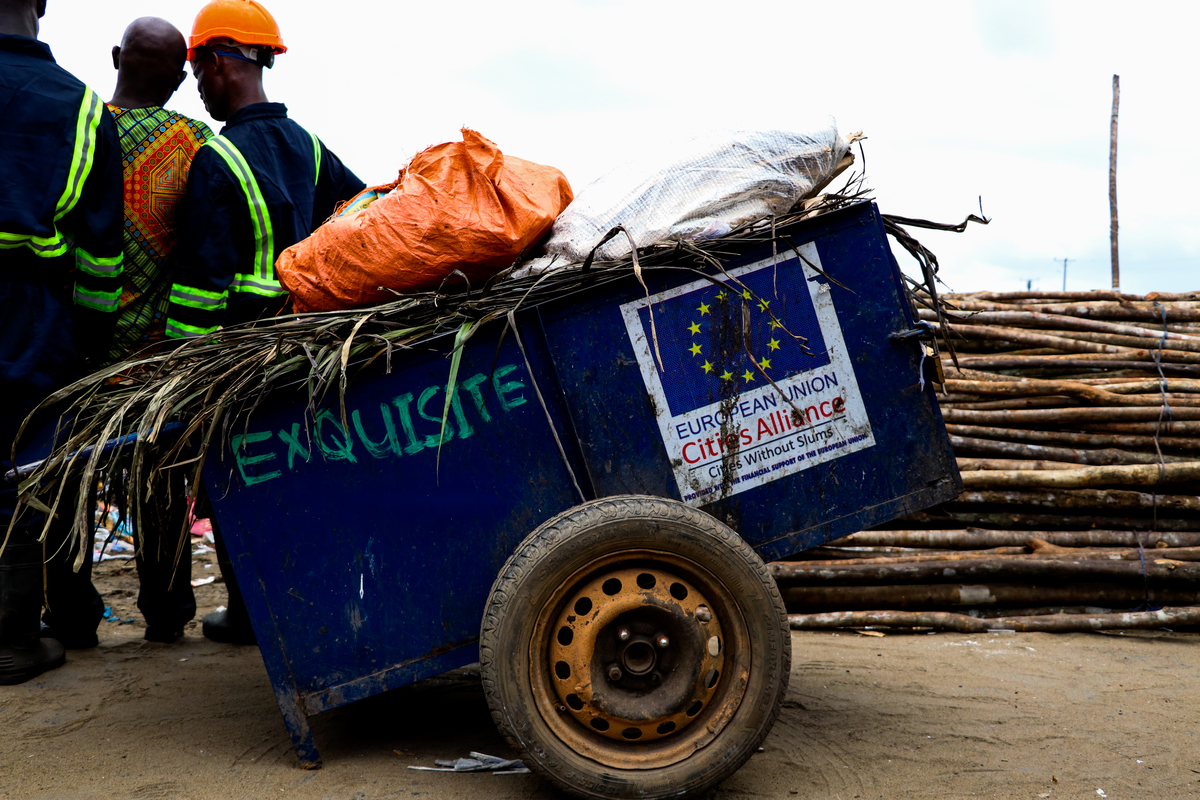 Cities Alliance is supporting budding entrepreneurs like Gertrude, who are seeking to earn a living through waste management. A new grant will provide training in financial management and business planning, part of a solid waste management project financed by the EU and implemented by Cities Alliance. 
The support has given Gertrude renewed hope to grow her business. "It is always possible to learn new things and to do it in new ways. We are looking forward to the financial management training, something that we need because if you cannot manage the finances you cannot manage a business," she says. [JB1] 
Gertrude aspires to grow OCEANS from a CBE to a small-medium enterprise (SME). She plans to expand services to 20,000 homes by 2020 and is targeting other cities near Greater Monrovia, including Kakata (45 km) and Buchannan (141 km). This expansion will require more equipment and trained technical staff.  
She believes that many Liberians will become involved in waste management services as the sector becomes profitable, but only if the city governments ensure that residents subscribe to the services of CBEs that collect waste from households.
Nonetheless, Gertrude remains optimistic about the future of waste management in Liberia. She notes that it goes well beyond picking up dirt or trash and taking it someplace else, and that the benefits are far-reaching. There is recycling and composting produced from the waste collected, and plastic is being repurposed. "By doing this we are assisting to prevent global warming that everyone is talking about," she notes.
And on a personal level, Gertrude believes she is building something that will continue to benefit her family and provide them with a stable income. "I am motivated, because I see it as a thing of the future which will benefit generations," she says. "I am now training my daughter that she will take interest and take over from me one day."
About the EU project to support solid waste management in Liberia
The European Union is funding the 5M EUR Delivering Climate Resilient Solid Waste Management Services to Greater Monrovia through Community Based Enterprises to reduce poverty and improve the quality of life for residents, while supporting Liberia's carbon neutrality agenda. By expanding CBE services and operations through training and financial support, the project provides livelihood opportunities for vulnerable communities to be employed in primary collection and contributes to improved sanitation and environmental protection.