Managing Waste in Liberia
CITIES ALLIANCE ISSUES CALL FOR PROPOSALS FOR SOLID WASTE MANAGEMENT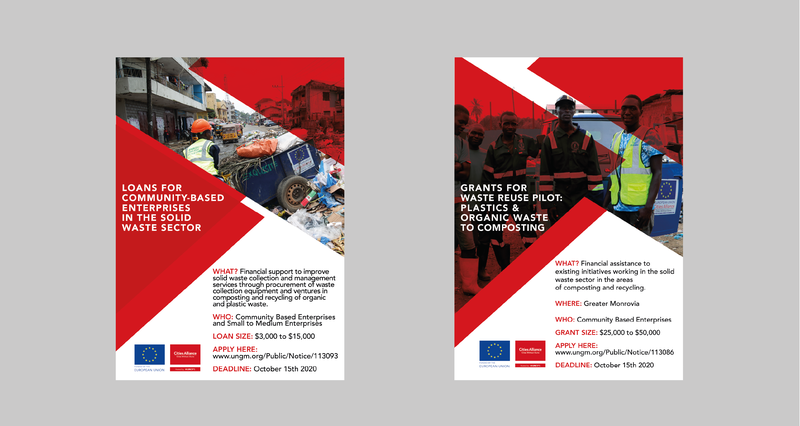 On 28 August 2020, the Cities Alliance Liberia Country Programme launched a Call for Proposals and Businesses Plans to improve the effectiveness of waste management services in Liberia and scale up recycling and composting pilot programmes, through a competitive grants and loan scheme. The Call for Proposals and Business Plans is a major milestone for Cities Alliance's solid waste management project in Greater Monrovia, Liberia, that uses community-based (CBEs), small and medium enterprises to deliver climate-resilient solid waste management services. The project is funded by the European Union and implemented by Cities Alliance.
"A practical example of strong cooperation between the private sector, the informal sector, local authorities, national authorities as well as national and international stakeholders working together towards a common vision of a climate-resilient solid waste management system in Monrovia, Paynesville and surrounding townships."

Ms. Vera Kellen, Programme Manager for Rural Development and Climate Change at the European Union in Liberia describing the EU-Liberia Global Climate Change Alliance
CALL FOR PROPOSALS - WORKSHOPS FOR APPLICANTS 
The Cities Alliance Liberia team hosted two workshops on how to apply for the new loans and grants 2-3 September 2020 at Monrovia's Corina Hotel. Over 100 people participated in the two workshops, which provided solid waste management organisations with information about the process, guidelines, and criteria for submitting business plans for the loans and proposals for the grants on waste recycling and composting. 
We are prepared to work with the CBEs and SMEs to ensure that Monrovia will be a climate-resilient city that is clean, green, and safe
Jerome D. Dangbuah, Monrovia City Council Technician
The deadline to apply for loans and grants is 15 October 2020, 16:00 GMT (Liberian time). 
CLIMATE RESILIENT WASTE MANAGEMENT IN MONROVIA
With nearly 1M people living in the Greater Monrovia area, 70% of them in slums, the management of solid waste is a real challenge in Liberia. People, particularly in informal settlements are affected by non-existent sewer, clogged drainages and improper waste disposal. They are also heavily impacted by climate change, through rising sea levels and coastal erosion.

In Greater Monrovia, the EU through the GCCA+ action programme is supporting Cities Alliance to strengthen the capacities of community-based enterprises (CBEs) working in the waste sector. The CBEs provide waste collection services and contribute to mitigate climate impacts through reducing greenhouse gas emissions. They also raise awareness, among residents, about the linkage between waste and climate change.  
I started off by creating awareness in the communities about my services and providing some information on the importance of keeping the communities safe and healthy. I had no understanding then about the relationship between waste and climate change.
IN THE NEWS
Cities Alliance Launches Grants, Loans for Solid Waste Management
Liberia: Cities Alliance, EU Launch Micro Finance Loan and Grant Facility for Community-based Enterprises to Improve Solid Waste Collections Services