Nearly 1M people living in the Greater Monrovia area, 70% of them in slums. There are 113 slum communities within the Cities of Paynesville and Monrovia and these areas are only growing. Within these areas, and across the Greater Monrovia, solid waste is a real challenge. The management of waste lies within the jurisdictions of the city corporations. However, without proper legislation, resources, and planning, proper waste collection is minimal. People, particularly in informal settlements are affected by non-existent sewers, clogged drainages, and improper waste disposal. To fill this gap, so-called Community-Based Enterprises (CBEs) have been created by the communities themselves. The problem of waste has become ever more pressing in the wake of increased urbanization, population growth, and the threats posed by climate change, through rising sea levels and coastal erosion. 
In Greater Monrovia, the EU through the GCCA+ action programme is supporting Cities Alliance to strengthen the capacities of community-based enterprises (CBEs) working in the waste sector. The CBEs provide waste collection services and contribute to mitigate climate impacts through reducing greenhouse gas emissions. They also raise awareness, among residents, about the linkage between waste and climate change.  
"I started off by creating awareness in the communities about my services and providing some information on the importance of keeping the communities safe and healthy. I had no understanding then about the relationship between waste and climate change", said Jestina Morris, head of a local CBE providing waste collection services to six communities in Paynesville.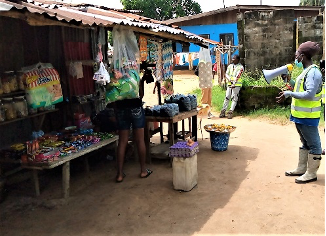 An additional loan and grant scheme, recently launched by Cities Alliance, will allow waste workers like Jestina to buy new equipment. "If I am successful when I submit my business plan, I will purchase a tricycle".