World Habitat Day 2009 celebrated in Washington, D.C.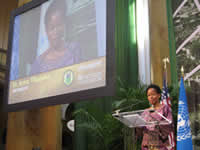 Washington celebrated World Habitat Day 2009 with a series of events underscoring this year's theme of "Planning Our Urban Future."
It is the first time a U.S. city has hosted the global celebrations of World Habitat Day, which is marked annually on the first Monday in October.
The highlight was an opening ceremony held at the spectacular National Building Museum on October 5. 
The event, which was co-hosted by HUD Secretary Shaun Donovan and UN-Habitat Executive Director Anna Tibaijuka, featured a videotaped message from President Barack Obama as well as addresses by Mrs. Tibaijuka, Secretary Donovan, U.S. Ambassador to the UN Susan Rice, and rocker Jon Bon Jovi.
"World Habitat Day is a good chance to look into the problem of people without housing and how to help them," President Obama said in his message, adding that challenges could only be addressed through partnerships.
In his keynote address, Secretary Donovan drew attention to the challenges posed by rapid urban growth and highlighted the U.S. commitment to sustainable development.
"The transformation we are witnessing in our cities and in our populations is certain to be one of the most pressing challenges facing the global community in the 21st century," he said. "When we work in partnership rooted in our most common values, our chances for success are that much greater."
In her remarks, Mrs. Tibaijuka stressed that with over half of the world's population living in cities and growth projected to increase—particularly in slums—urban planning has never been more urgent.
"Nearly all of the earth's population growth between now and 2050 will take place in cities. Regrettably, most of that growth will occur in the world's urban slums where poverty, deprivation and exclusion combine to offer hundreds of millions little more than misery and suffering," she said.
"We must either plan with and for people or perish from the pressures of population, climate change, migration, consumption, irresponsible individualism and unaccountable corporatism."
In a videotaped address, World Bank Vice President for Sustainable Development Kathy Sierra noted that urbanisation in inevitable part of growth, especially in the developing world. She suggested that there is a greater need than ever before for partnerships—such as with the World Bank, UN-Habitat and the Cities Alliance, among others—to help countries make the urbanisation process work for them.
Also attending the event was rock star Jon Bon Jovi, an outspoken advocate for affordable housing and the founder of the Jon Bon Jovi Soul Foundation.
In his remarks, Mr. Bon Jovi characterised homelessness as "an equal opportunity offender" that doesn't discriminate based on colour, religion, or country. He urged the international community to seek out unconventional partners in finding solutions to the problem.
"Don't be afraid to think outside the lines. Get creative. Look for the unconventional partners. Seek out the unique fundraising opportunities. The challenges ahead are too big to not think big," he said.
In addition to the opening ceremony, HUD and other organisations hosted related events throughout the week of October 5. They include a Habitat for Humanity build in northwest Washington, a workshop on Urbanisation, Slums and U.S. Foreign Assistance sponsored by the International Housing Coalition, and a planning seminar on urban issues at the Woodrow Wilson Center.
One of the highlights of World Habitat Day activities in Washington is the powerful multimedia exhibit "The Places We Live" on life in the slums. The exhibit, which is sponsored by the Cities Alliance, USAID and the World Bank, is showing at the National Building Museum at 401 F Street, NW until January 15.
In addition to celebrations in Washington, countries around the world marked World Habitat Day with events that highlighted urban planning and shelter, including exhibits, competitions, workshops, seminars, and sports events.
For More Information
13/10/2009