The members of the Cities Alliance elected new leadership during the Assembly meeting convened on 8 July. Professor Thuli Madonsela of South Africa was appointed as the new Chair of the Management Board, while Anibal Gaviria of Colombia, was re-elected President of the Assembly. The new Management Board is composed of 15 members.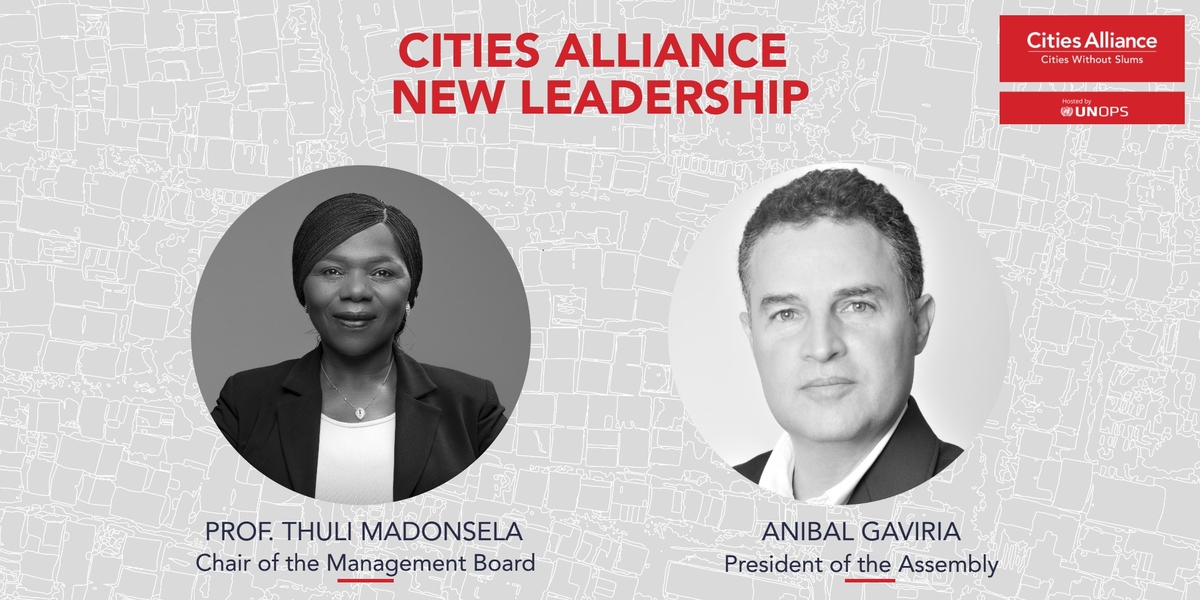 Thuli Madonsela is a professor of law. She chairs the Law Trust Research Chair in Social Justice at Stellenbosch University. She is also the founder of the Thuma Foundation for Democracy Leadership and Literacy, and a Member of the African Academy of Sciences. Former Public Protector of South Africa and Law Commissioner, Professor Madonsela was one of the drafters of the South African Constitution. She succeeds Clare Short, former UK Secretary for International Development, elected by the Assembly in 2016. 
Anibal Gaviria is currently serving a second term as Governor of Antioquia, Colombia, following his election in 2019. He had previously held this position between 2004 and 2007. He was also Mayor of Medellin, the second-largest city in the country, between 2012 and 2015. Under his leadership, the city implemented major urban initiatives to improve the socio-economic living conditions, particularly in informal settlements. Mr Gaviria was first elected President of the Cities Alliance Assembly in 2019. His mandate was extended in 2022.
The Assembly provides leadership and overall direction for the Cities Alliance and deliberates on sustainable urban development and related issues. It is composed of all 23 members of the Alliance. 
The New Management Board
The Board provides operational oversight and supports the decision-making processes within the Partnership. The newly elected board comprises 15 members drawn from four constituencies:
Governments: Germany, Sweden, Switzerland, United States, France, Uganda, and South Africa
Multilateral Organisations: United Nations Human Settlement Programme (UN-Habitat) and The World Bank
Local Authorities: United Cities and Local Governments (UCLG) and the Commonwealth Local Government Forum (CLGF)
Civil Society: Slum Dwellers International (SDI), Habitat for Humanity International, Reall, and Women in Informal Employment: Globalizing and Organizing (WIEGO).