Webinar Series: Cities' Response to Containing and Mitigating the Impact of COVID 19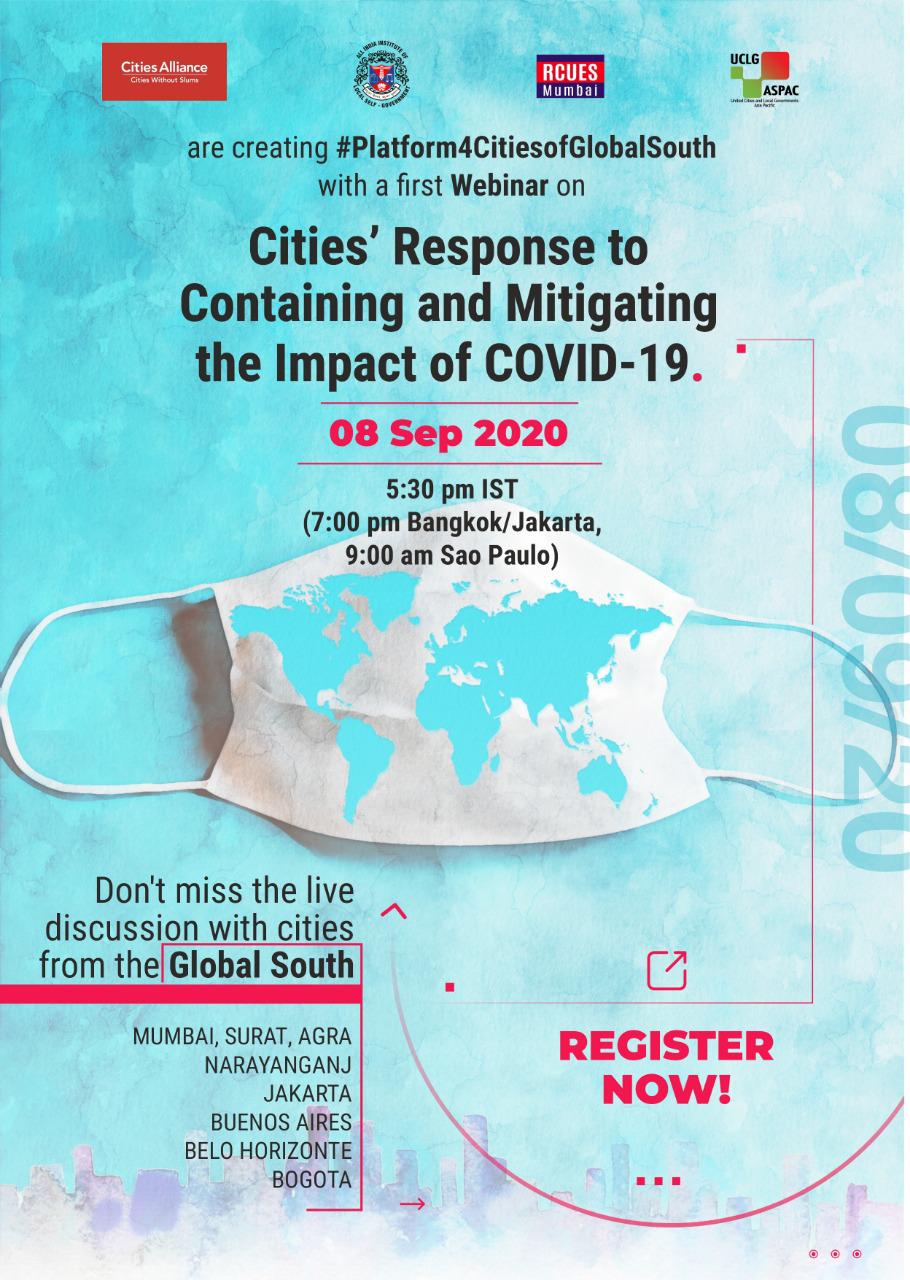 A Collaboration of UCLG ASPAC, AIILSG and Cities Alliance
Peer to peer exchange and peer-learning have been adopted for knowledge dissemination amongst national and sub-national governments and other stakeholders in the development sector. The exchange at the city level has been formalized through sister city agreements, MoU and exchange visits. However such exchanges have focused on broader policy issues and amongst political and executive leadership at the national and sub-national level. There have been few exchanges amongst city/municipal functionaries/supervising staff managing delivery of key municipal services to promote learning across the executive hierarchy of city governments. Cities Alliance has been supporting successfully exchanges among practitioners in Latin America through the Urban Housing Practitioner's Hub – UHPH, and more recently in Africa, especially in response to Covid-19. 
2. The pandemic is spreading across cities and countries with increasing speed globally though the case load and position on trajectory of the spread varies across countries and cities in a country. Since the outbreak, the contagion has moved from east Asia to south-east Asia, US, Europe, south Asia, Africa and Latin America. While the pandemic has peaked and declined in east and parts of south-east Asia and Europe, the pandemic continues to accelerate in south Asia, US and Latin America. Even in a country, the spread has peaked in some cities while it is on growth trajectory in other cities. 
3. The role played by local governments in successfully restricting the spread of the pandemic in cities and mitigating its impact has been extensively acknowledged. This is particularly exemplary in the perspective of limited mandate, finances and capacities of local governments in most cities.  When most countries adopted emergency measures, including lockdowns, the local governments ensured delivery of WASH services, regular disinfection of shared facilities and identification of infected people – provision of social and economic support, legal advice to women affected by domestic violence, protection equipment, communication campaigns on prevention and access to health facilities, measures which contributed to breaking the chain/slowing the spread of infections. The measures were particularly critical for managing the situation in low-income dense settlements where it is difficult to adopt the recommended social distancing and hygiene practices.
4. The interactive platform for Cities in the global south may be incubated, with participation of sub-national governments and their national associations and regional federations and other city stakeholders across the development regions - Africa, Asia and Latin America, and with institutional anchoring. This platform will identify good city practices in managing the spread of COVID 19 in the informal sector, and mitigating its impacts in the vulnerable urban territories, and invite the city functionaries managing such practices for virtual peer exchange with functionaries from other cities. 
5.  It is also well documented that cities are an important actor in the global efforts in climate Change adaptation, disaster risk reduction, achieving the SDGs and promoting gender equitable, inclusive and sustainable cities. The interactive platform will also facilitate virtual peer exchange amongst city functionaries on related global issues. The city functionaries participants may include field officers and supervisor/ sanitary inspectors / medical officers/ junior engineers/ executive engineer/ environment officers, among others.
6. The 'Global South' includes the most populous countries and comes with wide diversity. It is, in fact, this variation amongst cities from countries of Latin America, Africa and Asia  which would provide major learning experiences to field officers. The real challenge now is the accelerated speed with which actions are taken on ground. These accelerated actions are most crucial and most relevant to the functionaries who are actually working in the frontline, and will also shape the future of the informal settlements and workers from our cities.
7. A virtual 90 minutes session is proposed to be organized with participation of ten cities - 3 each from Latin America, Africa and Asia on a very specific focused issue. The format may be to have a moderator, a subject expert and 2 participants from each of the ten cities. The participant would share the specific challenges facing their cities and actions taken to manage the challenges related specifically to the informal sector, workers and precarious settlements, and also the perspectives for a radical shift in the short and long term . The session may also be broadcast on various social media platforms. 
8.  Experience over initial deliberations can be used to further refine this concept. The global anchoring of such initiative could be done by global partnerships for sustainable cities such as Cities Alliance. It could, in partnership with an institution in India, mobilize network to identify/invite cities for this exchange.
9. A series of 5 virtual exchange sessions, each covering COVID related challenge, may be considered for the first round. 
10. The first webinar, in the series, will focus on the following issues:
Manifold risks associated with COVID-19 in cities, and the response and management measures that the national and sub-national governments are undertaking to recover from the crisis.
Sharing on-ground experiences towards tackling the pandemic, discussing specific challenges faced by the cities of various scales and actions taken by them to manage the challenges related specifically to the informal sector, frontline workers and other vulnerable communities. 
5:30 pm India time (7:00 pm Bangkok/Jakarta, 9:00 am Sao Paulo)
Tuesday, 8 September 2020
5:30 pm – 5:35 pm

Introductory Remarks

Dr. Bernadia Tjandradewi. Secretary General, UCLG ASPAC

5:35 – 5:45 pm

Key Speaker: Ms. Utkarsha Kavadi, Director, RCUES, AIILSG

5:45 pm – 5:50 pm

Presentation of City Experiences (tbc), moderated by Mr. Sameer Unhale, State Joint Commissioner, Municipal Administration, Government of Maharashtra, India

5:50 to 5:57 pm

Mr. Suresh Kakani, I.A.S, Additional Municipal Commissioner, Municipal Corporation of Greater Mumbai

5:57 to 6:04 pm

Dr. Gayatri Jariwala, Assistant Municipal Commissioner, Surat Municipal Corporation, Surat

6:04 to 6:11 pm

Mr. Anand Menon K, Lead Consultant, Agra Smart City, Agra

6:11 to 6:18 pm

Dr. Suharti Sutar, Deputy Governor for Population and Settlement Control, Jakarta, Indonesia

6:18 to 6:25 pm

Ms. Laura Rennó Tenenwurcel, Arquiteta e Urbanista - Secretaria Municipal de Política Urbana – SMPU, Belo Horizonte, Brazil

6:25 to 6:32 pm

Mr. Francisco Reinsoff, Subsecretario de Relaciones Internacionales e Institucionales del Gobierno de la Ciudad de Buenos Aires, Argentina

6:32 to 6:39 pm

Mr. Orlando Trujillo,  Advisor of the The Habitat Secretariat of the Bogotá Mayor's Office Bogota, Colombia

6:39 pm – 7:00 pm

Questions to the presenters and concluding remarks, Ms. Anaclaudia Rossbach, Regional Manager – LAC, Cities Alliance
Biographies of panelists
Mr. Suresh Kakani, I.A.S, is the Additional Municipal Commissioner, Municipal Corporation of Greater Mumbai. He has previously held the post of Collector & District Magistrate Nanded (2015 to 2017) and Municipal Commissioner, Mira Bhayander Municipal Corporation (2013 to 2014). He has received recognition under Swachha Bharat Mission from the Hon. Chief Minister of Maharashtra. He holds an M.A. in Asian Studies, from University of California, Berkeley, CA, USA (2006- 2008).
Surat- Dr. Gayatri Jariwala is the Assistant Municipal Commissioner in Surat Municipal Corporation, Gujarat. She has pursued her Ph.D. in Malaria, Occurrence and analysis of Socio-economic Impact. As a divisional head of several departments, she plays a crucial role in education, health and livelihood.
Francisco Andrés Resnicoff is the Undersecretary of International and Institutional Relations of the City of Buenos Aires Graduate in Political Science (UBA), and Master's in Law and Diplomacy from the Fletcher School and in Political Science from Brown University. Extensive experience in the design, implementation, monitoring and evaluation of public policies. Previously, he served as a consultant for the third sector, the private sector and international organizations such as the IDB and the World Bank. As Undersecretary, he assists the Secretary General and International Relations in managing relations with national and international actors present in the City and abroad with an interest in Buenos Aires.
Ms. Laura Tenenwurcel is the Technical Advisor in the Urban Policy Secretariat of Belo Horizonte. Graduated in Architecture and Urbanism and Master in Political Science from University of Minas Gerais. She assists implementation and evaluation of public policies for informal settlements and housing policies.
 Mr. Orlando Trujillo Advisor of the the Habitat Secretariat of the Bogotá Mayor's Office. He conducted a Ph.D in Public Policy and previously worked at the Fiscal and Municipal Management Division of the Inter-American Development Bank (IDB) and the Deparment of Effective Public Management of the Organization of American States (OAS).