Promoting Local Government and Citizen Engagement for the City We Need in Africa, in Time of Covid-19 and Beyond
Urban Thinkers Campus in celebracion of World Cities Day. In partnership with UCLG - Africa
Urban Thinkers Campus / World Cities Day
Promoting Local Government and Citizen Engagement for the City We Need in Africa, in Time of Covid-19 and Beyond
Online Series from 27 to 29 October 2020.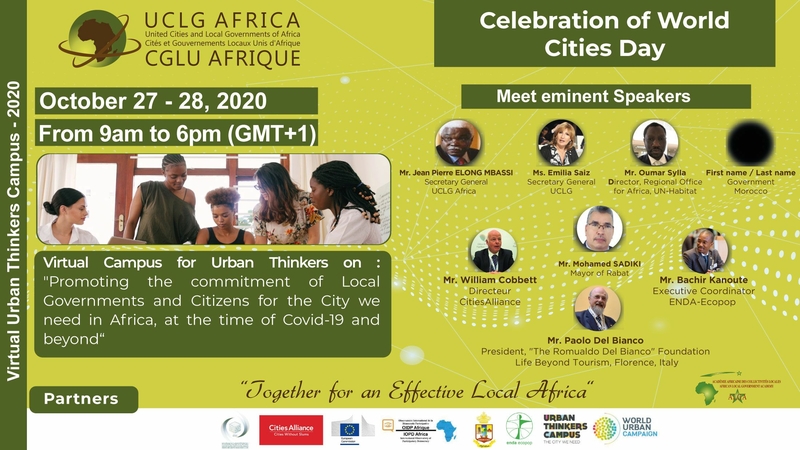 The African continent is undergoing a process of rapid urbanization that is expected to continue in the coming decades. Its population is expected to reach 2.4 billion people by 2050, including 1.34 billion urban citizens versus 455 million at present. All African cities, whether large or intermediate-sized cities or small towns, will face the same demographic, social, economic and ecologic challenges in the coming decades. These challenges are exacerbated by the effects and impact of the Covid-19 Pandemic.
Against this background, UCLG Africa organizes a three-day virtual Urban Thinkers Campus (UTC) with a series of events to celebrate the International Cities Day and showcase concrete experiences of inclusive and participatory approaches, in particular from local governments, cities, citizens and  NGOs. It will be a moment to inform, raise awareness, train, build capacity, share experiences and good practices, learn from peers and identify ideas, elements and materials that can feed a roadmap for the future.
The opening session on 27 October will count with the participation of Billy Cobbett, Director of Cities Alliance. 
---
Within the framework of this UTC series, Cities Alliance will also be hosting a Virtual Urban Lab on 27 October (3 - 5:30 pm CET). The event aims to explore how citizens can be engaged and empowered to take an active role during the Covid-19-pandemic and beyond. Register here.
The pandemic has underscored the importance of collaboration among all sectors and across the public, private, and civil sector. Hence, solidarity networks that were created due to the pandemic can be addressed as a transformation to more sustainable and institutionalized governance structures in cities. By sharing best practices of citizens engagement that serve the interest of all and leaves no one behind, approaches to promote inclusion and participation are addressed.   
Based on the principle of UCLG and the UTC series – mayors talking and mayors listening – the event consists of three parts that deal with the following questions: 
Which participatory mechanisms that emerged during the pandemic can be sustained to maintain spheres of dialogue and foster citizen engagement on the local level?   
What are the main obstacles to the broader engagement of citizens in African cities? What are potentials? 
How can we make sure that best practices get known and shared?
Speakers
Mayors:
Ms Royeyatou Lowe, Lord Mayor of the City of Banjul, Gambia.  
Mr Nelson Marchezan Júnior,  Mayor of Porto Alegre, Brazil.
Civil society organizations' representatives :
Ms. Sareen Malik, Executive Secretary, ANEW - African Civil Society Network on Water and Sanitation SWA (Sanitation and Water for All).
Mr Adama SOUMARÉ, Coordinator of Dakar Focal City, WIEGO. 
Mr De Wit Coetsee, Manager ICT Governance and Administration, Drakenstein Municipality, Western Cap, South Africa.
Mr Bachir Kanoute, The Participatory Budgeting, Africa Coordinator, OIDP –Enda Ecopop. 
Prof. Allan Rosenbaum, FIU University, Miami – USA. 
Citizen Budget, Institute Basil Fuleihan, Lebanon. 
Sarah Nambozo, community leader from the National Slum Dwellers Federation of Uganda, SDI.