City Planning For Gender Equality: Action To Support Women And Girls' Needs
Session organized by Cities Alliance and UN Women. By invitation only.   
Women experience and use the urban environment in different ways from men, and they have different needs in terms of services and infrastructure (e.g. public transport, housing and public spaces), and these rarely feature in urban policy and planning. This reality further works to exacerbate gender inequalities in the built environment. 
Poor city planning can contribute to women and girls feeling unsafe, it can affect their use and enjoyment of city spaces, and can reproduce stereotypes related to gender, class, and unpaid labour. Gender inequalities are also expressed through women's frequent experiences of sexual harassment and other forms of sexual violence against women and girls in public spaces. However, if designed, built, and managed differently, cities have the potential to increase opportunities that can benefit everyone, including women and girls in all their diversity. A gender-responsive lens to city planning can work to ensure that the voices, experiences and needs of women and girls are considered and influence changes in the built environment. 
The session is co-organized by Cities Alliance (UNOPS) and UN Women. It brings together representatives of local institutions, women-led organizations, and international organizations to collectively explore concrete ways cities can be better planned for women and girls, covering important themes of safety, participatory urban design, and access to and use of public transportation and other public spaces free of violence against women and girls. In particular, it will explore experiences in London, Kathmandu, Tunis and Addis Ababa.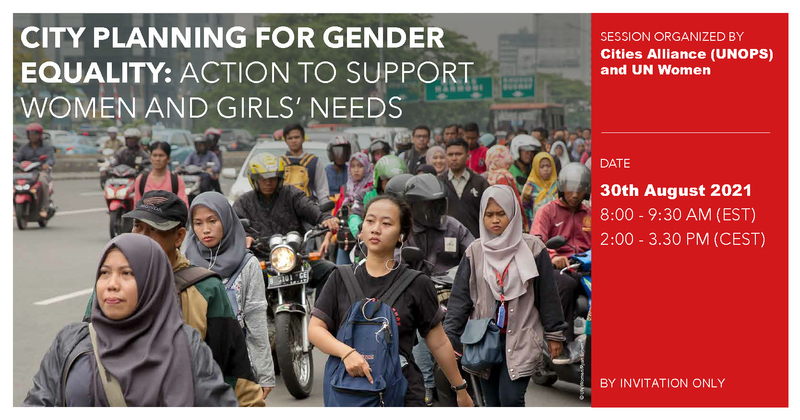 AGENDA
Welcome and Introductory Remarks
Giulia Maci, Urban Specialist, Gender focal point - Cities for Women, Cities Alliance (UNOPS)
ARMCHAIR DIALOGUE
Moderator:
Virginia Mucchi, Head of Communication, European Centre for Development Policy Management - ECDPM
Speakers:
• Sassi Souad, Responsible for International Relations, Cabinet of the Mayor, Tunis, Tunisia
• Laura Capobianco, Senior Advisor - Safe Spaces, Ending Violence Against Women Section, UN Women
• Maria Munir Yusuf, Founder & Executive Director, Association for Women's Sanctuary and Development (AWSAD) - partner to the Safe Cities and Safe Public Spaces for Women and Girls Programmes in Ethiopia
• Anju Malla Pradhan, Immediate Past President of Society of Nepalese Architects (SONA)
• Martina Rogato, W20 Sherpa, Sustainability Advisory and Professor - Commentary on Gender Equality in G20 Cities