Smart Technologies for More Equitable City Economies
Image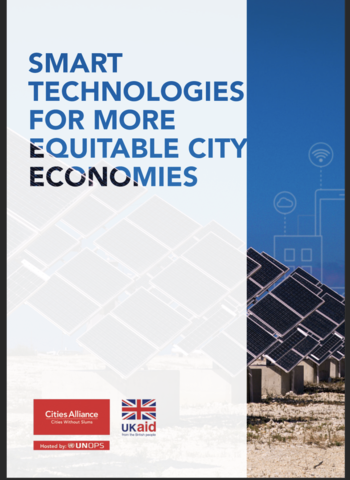 "Smart cities" has become a significant concept common not only in global dialogues and discourses but also informing development approaches and policy responses by a number of local governments in rapidly urbanizing partner countries of the Cities Alliance partnership. At its core lies various technical associations of sensing, data-driven urban systems designed to improve government services, enhance local economies, reduce natural resource consumption and waste, and deepen citizens' engagement with governments and each other.
However, country operations of the Cities Alliance suggest that these approaches often fall short of producing inclusive and pro-poor outcomes and are difficult to apply in data and investment scarce environments, especially in Secondary Cities in Sub Saharan Africa. In addition, there is a growing account of experiences indicating that an uncontextualized application of technology-driven approaches to data monitoring in cities may create adverse developmental effects, such as exclusionary governance practices.
Based on a study conducted by Espelia, Cities Alliance produced this report that seeks to investigate and collect cases in which the application of new smart technologies in cities have fostered a more productive and inclusive environment for the urban poor. Solutions enabled by new technologies; driven by the needs and agency of the urban poor.
The study investigated two case studies in Bangalore, India (waste e-management) and Arusha, Tanzania (pay-as-you-go solar systems). It highlights the challenges in cities of the Global South, and the conditions, actions to be taken, and recommendations for multi-stakeholder arrangements that can allow technologies to be used to foster more equitable economic development.