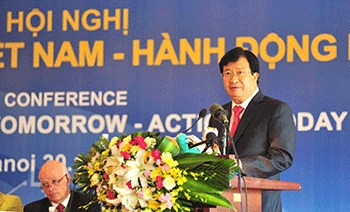 Vietnamese Minister of Construction Trinh Dinh Dung (right) addressing the VUF and Cities Alliance Manager William Cobbett (left).
[26 November 2012] -- Vietnam's commitment to scaling up its urban upgrading efforts was clearly evident at the recent Vietnam Urban Forum (VUF), which was held 30 October 2012 in Hanoi.
Perhaps the most significant aspects of the 2012 VUF were the organisation's expansion and the fact that cities and communities participated for the first time.
The VUF welcomed some 30 new members at the event, including several representatives of the private sector, bringing the Forum's total membership to more than 90 and putting it well on its way to becoming a genuine national platform for dialogue on urban issues that includes all stakeholders.
The Ministry of Construction hosted the VUF, which was attended by over 300 representatives of national and local authorities, international donor agencies, urban institutes and associations, academia, NGOs and the private sector.
Minister of Construction Trinh Dinh Dung gave an opening address that stressed the importance of urbanisation to Vietnam's economic development and the need for cities to address the impacts of climate change and environmental pollution.
The Cities Alliance is supporting the VUF as part of its Country Programme in Vietnam, which focuses on aligning urban development efforts at the national, city and community levels. Initial Cities Alliance funding is centred on revitalising the VUF and establishing an independent Secretariat for the Forum in order to institutionalise the VUF within the fabric of Vietnam's urban agenda.
In a further sign of support for the VUF, the Cities Alliance held its Annual Meetings for 2012 in Hanoi in parallel with the VUF, providing many Cities Alliance members with the opportunity to see the forum in action.
The VUF has become an increasingly important forum for one of Vietnam's more pressing issues. In recent decades strong economic growth has driven an urbanisation rate of around 3 percent per year, making Vietnam one of the fastest urbanising countries in East Asia.
Of particular concern has been ensuring that urban development programmes at the national level trickle down to secondary cities, where the bulk of urban growth is taking place. Another key issue is the impact of climate change on Vietnam's cities, which are vulnerable to rising sea levels, environmental pollution and natural disasters such as flooding, typhoons, and drought.
Within that context, the VUF featured a workshop that focused on three topics: climate change, urban planning and resource mobilisation. The sessions generated lively debate, and gave various stakeholders the opportunity to share their experiences and approaches. Participants also included seven cities that are undertaking City Development Strategies with Cities Alliance support as part of the Country Programme.
In addition to support for the VUF, the Country Programme also includes expanding the Community Development Fund (CDF) network, community-based City Development Strategies, and training for city authorities.