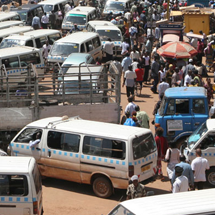 Kampala City has been particularly impacted by
rapid population growth. Photo: The Daily Monitor
[29 April 2010] -- Uganda must have a proper urban policy in place to enhance the development of urban centres because they are catalysts for economic growth, the World Bank has said.
In a recent meeting with journalists, World Bank Country Manager, Ms Kundhavi Kadiresan noted that urban centres should be developed because they offer major economic activities such as industry, services and commerce.
In addition, urban centres account for about 72 per cent of manufacturing output and have a high per capita consumption (with an average of $1,533 per annum and with an annual growth rate of 4.9 per cent) compared to national rural average (of only $344 per annum with annual growth rate of 3 per cent).
"Due to agglomeration, urban development is key for the structural transformation of Uganda," she said. 
High population growth rate a worrying trend
Ms. Kadiresan expressed concern about Uganda's rapid population growth rate of 3.2 per annum, one of the highest in the world. According to estimates, Uganda's population will reach 68 million in 2035, with 30 per cent of the population (some 20 million people) likely to be living in urban centres as a result of rural-urban migration in search of employment.
Currently, about 15 per cent of Uganda's population lives in urban areas. Within those urban areas, around 14 per cent of the urban population lives below the poverty line. The number of urban residents living in poverty has increased from 500,000 in 2002 to 600,000 in 2006.
"Large population puts a lot of pressure on the available resources, increases dependency ratio and at the same time puts a lot of pressure on government to provide services needed by the citizens," Ms Kadiresan said.  
Kampala City has been particularly impacted. Rapid population growth and concentration of economic benefits in Kampala and in the central region has caused a population boom in the capital. A city planned for 350,000 residents, Kampala City now has a night population of 1.5 milliion and a day population of 2.5 million.
World Bank Urban Specialist, Martin Onyach-Olaa noted that outside Kampala City, secondary cities (municipalities) account for about 50 per cent of the population and have expanded beyond their geographical boundaries. This rapid expansion of secondary cities without proper planning poses significant challenges to Uganda's urban sector.
If Uganda does not control high population growth, then the government's plan of transforming it into a middle income economy will be nothing but a dream, according to Ms. Kadiresan. In addition to increased poverty, high population and unplanned urban growth can also create a deteriorating urban environment with poor sanitation, water pollution, traffic congestion and emission, and environment degradation from uncollected waste. 
Other urban development challenges Uganda faces include the absence of appropriate national urban policy, the lack of a regulatory framework, and outdated planning laws that are based on 1952 British legislation. 
 A new World Bank Country Assistance Strategy  
As a way forward, Mr Onyach-Olaa said the Bank is preparing a $150 million project to support Municipal Infrastructure Development in 13 municipalities: Arua, Gulu,Lira, Moroto, Soroti, Tororo, Mbale, Jinja, Entebbe, Masaka, Mbarara, Kabale, and Fort Portal.
He said the World Bank is working with Cities Alliance to support the urban poor in Uganda with $4.5 million in funding. The organisations are also supporting the national government in developing a National Urban Policy and a 15-year Urban Investment Plan. In addition to the new World Bank Assistance Strategy, Mr Onyach-Olaa announced that Kampala will receive $44 million for urban infrastructure and development.
As Uganda's economy expands—it is growing at 7 per cent annually—the country's development needs also expand, putting considerable pressure on government to borrow soft loans from the World Bank through its International Development Association (IDA).
Out of the 79 poorest countries that borrow from the World Bank through IDA , Uganda is the sixth largest recipient of IDA loans in the world and number one in Africa, according to Ms Kadiresan. She added that this increased volume of IDA loans has helped Uganda reduce poverty levels and has acted as a source of cheap financing for funding projects needed for economic development.
"In our new World Bank Country Assistance Strategy for the next five years beginning July 2010, the IDA loan for Uganda is expected to be in the range of $1.8 billion to $1.9 billion to finance projects across priority sectors in the economy," Ms. Kadiresan said.
She noted that the new five-year Country Assistance Strategy will continue to focus on health issues, agriculture, education, road infrastructure, transport, energy, and other areas including urban development and oil (support to the oil institute).

Read the full article by Martin Luther Oketch published in the Daily Monitor 27 April 2010.