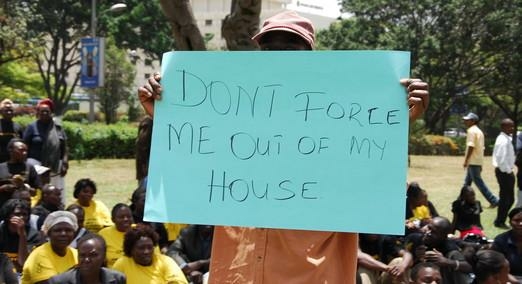 An informal settlement resident in Nairobi, Kenya, demands an end to forced evictions on World Habitat Day 2011. Photo: Amnesty International
Amnesty International
[26 March 2012] -- "When we meet each other from slums across the continent and see our problems are the same it makes us stronger."
- Philip Kumah, a tailor and resident of Old Fadama slum in Accra, Ghana, under threat of forced eviction.
End forced evictions
Every year in African cities thousands of families are thrown out of their homes by the authorities or others without human rights safeguards. These forced evictions shatter lives. People not only lose their homes, but also their possessions and jobs, and children are forced out of school. People living in informal settlements, or 'slums', are most at risk because they may lack formal permissions for the place they live.
This is a massive injustice. No-one can be forcibly evicted, no matter where they live. This is illegal under international and regional human rights standards, which African governments have committed to. Often carried out in the name of 'development', forced evictions drive people deeper into poverty and result in many people becoming homeless and destitute. Forced evictions are a problem, not a solution, and they must end.
Housing is a human right
Around three out of every four people living in a sub-Saharan city live in an informal settlement. Their governments have failed to plan for affordable places to live in the city. Most work, pay taxes, vote, put their children through school and contribute to the city's economy like other urban residents. But they are excluded from city budgets and plans and get inadequate or no access to water, schools, health care and security.
This is against international law: people living in informal settlements have the same rights to adequate housing, water, sanitation, education and health care as all others do.
Read the full story on Amnesty International