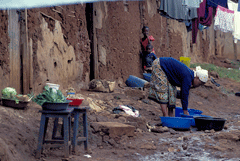 [14 May 2009] -- A new bill has been put forward in the US House of Representatives that aims to make addressing the challenges of slums a higher priority in US foreign aid programmes.
The Shelter, Land, and Urban Management (SLUM) Assistance Act of 2009 was introduced March 25 by Rep. Brad Miller (D-North Carolina), a member of the House Foreign Relations Committee.
Both lawmakers were inspired to take up the issue of slums after visiting the Kibera slum during congressional delegations to Nairobi, Kenya. They were astonished to discover that the
US Agency for International Development
(USAID) did not have a programme in Kibera, where over one million people live on an area the size of New York's Central Park.
"The United States was once the international leader in promoting policies and investments that improved the lives of millions of slum dwellers," said Rep. Miller in a statement. "If we are to promote our national security interests and drastically reduce global poverty, we must renew abandoned efforts to help with shelter and affordable housing."
Approximately one billion people, a sixth of the world's population, live in slums, mostly in developing countries. That number is expected to double in the next 30 years.
Both Reps. Miller and Price seek to incorporate a coherent, integrated strategy for addressing slum issues into US foreign aid programmes.
In remarks during a recent panel discussion of the Slum Assistance Act at the Wilson Center, Rep. Price said that the approach must be a flexible one in order to develop local solutions that meet the needs of individual slums, which are unique with their own set of issues. 
Also participating in the panel were Peter Kimm of the
International Housing Coalition
and Christopher Williams, the Washington representative for
UN-HABITAT
. Both panelists expressed strong support for the SLUM Assistance Act and highlighted the need for a greater focus on urban issues in foreign assistance.
The United States is a member of the Cities Alliance.
For More Information