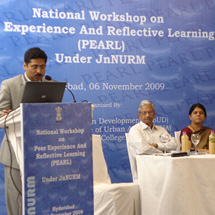 A National Workshop on the Peer Experience and Reflective Learning (PEARL) programme was held in Hyderabad, India on November 6, 2009.
The workshop was jointly organised by the Ministry of Urban Development (MoUD), the National Institute of Urban Affairs (NIUA) and the Administrative Staff College of India (ASCI). 
Over 50 participants attended the event, including representatives of the Ministry of Urban Development, State governments, municipal corporations, research and training Organisations, associations of city managers, the Cities Alliance, Water and Sanitation Program (WSP), etc.
The major objectives of the workshop were to identify success stories, issues and way forward for the PEARL programme. 
Established in 2007, the PEARL programme aims to create networks between cities for cross-learning and knowledge-sharing on urban reforms and city governance. It is part of the Jawaharlal Nehru National Urban Renewal Mission (JNNURM), a massive fast-track city modernisation initiative launched by the Indian government in 2005. The JNNURM initiative currently includes 63 cities across the country.
For more information about the workshop, please see the article "National Workshop in Hyderabad" on the India Urban Portal.
Related Information
Roundtable highlights India's PEARL knowledge sharing programme